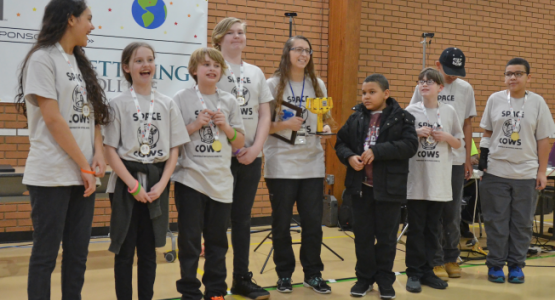 Mansfield's Space Cows Win Grand Champion's Award
May 23, 2019 ∙ by rbacchus ∙ in Ohio Conference
Story by Heidi Shoemaker
After a welcome from Nate Brandstater, the president of Kettering College, the qualifying tournament of the Ohio Conference Education Department's Adventist Robotics League officially began. The Dayton-area Pathfinder drum corps led the proceedings. Soon after, Ron Halvorsen Jr., conference president, opened with prayer.
The league judged 91 students from 10 schools and two states in a variety of areas, including Robo Performance, Robot Design and Project and Core Values. Participants later challenged each other in robot matches. By the end of the six-hour day, the Space Cows from the Mansfield Seventh-day Adventist School (Ohio) won the grand Champion's Award, securing an invitation to the Championship Tournament in Orlando, Fla., this month. The league also invited two other teams to attend the final tournament—the Hinsdale Adventist Academy (Ill.) Legends of the Shooting Star and the Worthington Adventist Academy (Ohio) Robo Stars.
"The Ohio Conference of Seventh-day Adventists is honored to co-host this event with Kettering College, and we see it as an avenue to bring young people on this campus to possibly inspire them to consider the medical arts and sciences in the future," shared Richard Bianco, Education Superintendent of Schools for the conference.
Thanking the more than 50 volunteers—several of whom worked with Bianco for 11 months organizing this event—he continued, "Your willingness to serve and passion for young people will go a long way in making an impression on these young people, and could be a deciding factor in their lifetimes."
Bianco shares, "Most schools/teams prepared during the school day with teacher/coach support and even after school. This preparation entails more than just building a robot and completing a mission; it is a comprehensive learning experience in which the students must learn to work together, collaborate, communicate and share their vast skills in a variety of manners."
At the event, multiple judges assessed these individual and team skills in which teams shared details of their project and robot design. "There are rubrics that have been set up by FIRST LEGO® League. All scoring and judging is on the same scale," explains Bianco. Many judges came from Kettering College and their Science Department, whose staff aided in finding judges and volunteers, and helped to conduct the tournament.
"The Ohio Conference is committed to helping our churches and schools continue to nurture relationship building that embraces young people and benefits all generations," shares Halvorsen.
Bianco adds, "Several of our Ohio Conference schools received a grant from the conference for educational technology enhancement. ... Some of our schools would not have attended without that grant."
Visit the Ohio Conference Education Department Facebook page for videos and more photos from the tournament.