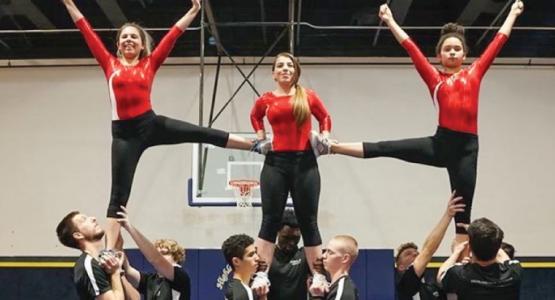 Highland View Academy Students Witness Through Teambuilding, Sportsmanship
November 18, 2019 ∙ by Web Administrator ∙ in Chesapeake Conference, Education
Story by Andrew Lay
There is a new sport on Highland View Academy's (HVA) campus that is not only building up student athletes' physical bodies but teamwork skills too.
The HVA Aerials gymnastics team members build up team spirit and glorify God through their physical talents. The team meets weekly to practice skills and learn how to be healthy Christian representatives. Whether it is telling a Bible story through team demos or by working in pairs or quads to talk about good health choices through movement, the Aerials work hard to communicate God's love to others.
This team sport joins other sports on campus in providing ways to glorify God through athletic talents. The Lady Tartans volleyball team recently showed their sportsmanship as they played against Mercersburg Academy (Pa.). Working hard to face these tough competitors, the Lady Tartans encouraged each other and the other team players to do their best.
Similarly, the other Tartans varsity sports teams work hard to show their skills in addition to good Christian sportsmanship. During last year's athletics season at the Walla Walla University Friendship Tournament (Wash.), the Tartans boys' varsity basketball team not only received the third place trophy, but also the top Christian Sportsmanship Award.
Terry Hess, current athletic director and board member, encourages this great athleticism along with Christian sportsmanship. Andrew S. Lay, Development director, also shares this belief: "HVA is becoming known for not only winning games but also showing a Christian spirit at each event. This spirit of cooperation and care for others has also shown up in the Tartans soccer teams," he says. "Whether it is playing locally against other Christian or private schools, at the tournament at Union College in Nebraska or in a different state with other Adventist schools, our athletes are increasingly committed to demonstrating their abilities through sportsmanship and team excellence."
For more pictures of the Aerials team, visit Instagram.com/hva_aerials/.