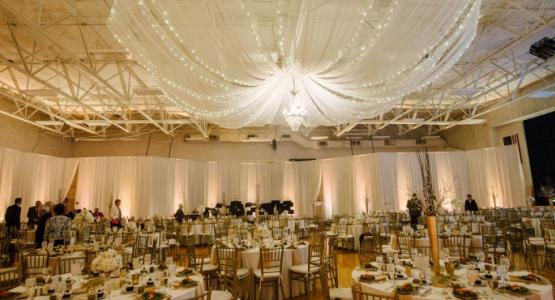 Golden Gala Glitters Success
January 24, 2019 ∙ by Web Administrator ∙ in Ohio Conference, Education
Story by Vicki Swetnam
Spring Valley Academy (SVA) hosted "The Golden Gala" last fall, as the school celebrated its 50th anniversary. "The past several years, we've held the auction at off-campus locations," says Darren Wilkins, principal. "But with the 50th anniversary and our new Worship and Performing Arts Center completed, we really wanted to hold the event at the school."
The last four galas have raised money for the just-completed first phase of the new center, and this event gave SVA the opportunity to show gala sponsors, donors and volunteers how their gifts were used. With the first phase of this new facility costing around $5.5 million, the gala was one of the major donors to this campaign, contributing more than $1 million.
The evening featured a silent auction and appetizer hour in the newly renovated science labs. The auction, led by Kathleen Cabansag and Rhylma Villegas, members of the SVA Gala Committee, raised $25,000 toward the event total. Cabansag and Villegas organized a team of people to solicit, collect and assemble more than a hundred silent auction items.
Guests later enjoyed a concert in the Fritzsche Worship and Performing Arts Center, featuring the high school band, under the direction of Donald Huff (pictured, below). "Decades Rewind," the concert theme, took the audience on a musical trip through the 50 years of SVA's existence, interspersed with videos featuring alumni from each decade.
Following the concert, guests enjoyed dinner in an almost unrecognizable gymnasium (pictured, above). The creative vision of committee members Jennifer Bouz and Jennifer Reed transformed the space into a beautiful banquet hall with gold accents and flowers arranged by SVA grandparent Jimemah Perez. The SVA stage band played music from 1968—the year of SVA's founding.
To cap off the evening, SVA auctioned off several trips and experiences for a total of $42,000, and they raised more than $84,000 through the live appeal which followed. In total, the event raised more than $310,000. A minimum of $200,000 is committed to the new center, and a donor-restricted $25,000 will be applied toward the center circle plaza project.
This event was made possible through the volunteer efforts of the SVA Gala Committee, led by Board Chair Frank Perez, the 47 corporate and individual sponsors and 350 event attendees who purchased items and gave generously to the appeal. SVA thanks all who worked together to make this event a success!