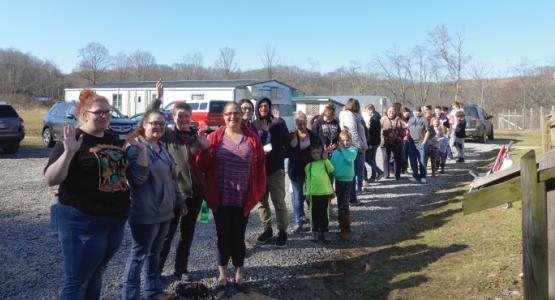 God's Closet Bulges at the Seams
October 23, 2019 ∙ by Web Administrator ∙ in Mountain View Conference
Story by Valerie Morikone
Looking for ways to meet the needs in their community, especially the needs of young parents, Becca Jacko, a member of the Elkins (W.Va.) church, started volunteering at God's Closet, a nonprofit, Adventist organization that invites the community to "shop" for donated children's clothing.
Upon arrival, shoppers fill out a registration form— where they can also request Bible studies, among other things—and an interest survey, which provides valuable information that helps the church to see other ministry opportunities in the community.
God's Closet opens their doors every three months so families can return to restock on children's clothing. Volunteer days are also offered in which community and church members help sort and size clothing. When this ministry first launched in August 2018, more than 180 people came to shop. Their latest event brought more than 360 individuals. In fact, the project has taken off so drastically that it has outgrown its space, and the church is looking forward to the completion of Highland Adventist Academy's gymnasium in Elkins so they can hold their outreach ministry there.
"God's Closet is a practical way to reach out to our community and meet real needs. The response has been overwhelming, and the people are truly grateful for this service," says Jacko, now the director of this program. "It is wonderful to see the faces of the children light up when they find something they want or need. This ministry can really be a springboard for other ministries. We've had dozens of Bible study requests, which is very exciting!"
The sentiment from the community has been very positive. One shopper stated, "Such a blessing God's Closet is! Such kind people who really show the love of God and are there to help one another! Thank you for everything we have received!" Another commented, "My son loves his clothes, and they were all clean and in great condition. Thank you for having such a wonderful thing for this community!" Furthermore, a woman agreed, "God's Closet is such a blessing for people who are in need."
Jacko says, "There is so much potential with this ministry. It's been such a huge blessing to be a part of this! It is loads of work, but very worth it when folks come in and are so grateful for the service."