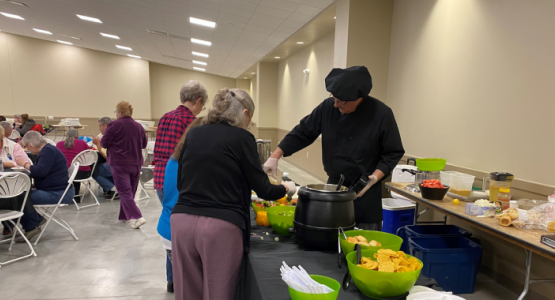 Findlay Church Members Become Active Disciples
December 05, 2019 ∙ by rbacchus ∙ in Ohio Conference
Story by Michael Stough II
Throughout the yearlong journey with Disciple Ohio—a complete member involvement initiative—Ohio Conference church members have been encouraged to think big and outside the box. The Findlay (Ohio) church took this to heart and recently hosted a cooking school by noted professional chef Mark Anthony. They began the planning stages during the summer months, to put invitations into the hands of fairgoers at the Hancock County Fair. 
When the weekend finally arrived, almost 90 people attended, with about two-thirds not Adventist. Because they expected a large crowd and wanted a neutral location, the church rented a 700-seat hall at the fairgrounds. The cooking school, which focused on vegan recipes, was a hit. Dave Smith, head elder, shared that many attendees knew about the positive health effects of a vegetarian diet and that Findlay needed a more health-conscious focus and were thankful that the Seventh-day Adventist Church met that need.
With such a positive outcome, members began brainstorming on ways to use this success in reaching those who attended and beyond. It was recommended the church look at having a healthy breakfast meal on Sundays, along with a Bible study. Pastor Patrick Mazani, who was positively excited about what was happening at Findlay, noted the challenges of meeting on Sunday mornings but said the Findlay members were dedicated to meet one Sunday a month and build from there. 
Member Linda Langston volunteered to send out newsletters containing healthy living ideas and updates on events to those interested. One of the challenges which now needs to be met is space. With rather limited space in the fellowship hall, which serves multiple purposes, members who were once reluctant to expanding now see the need as paramount in their growth. Mazani recently shared with members that an anonymous donor had given $50,000 to help fund this expansion.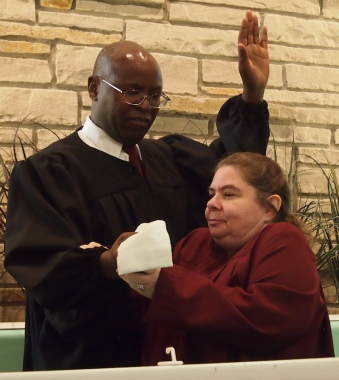 Another exciting event was Amy Gedelian's baptism (pictured with Mazani). Gedelian attended Findlay's three-day outreach event in 2018, but wasn't active in the church until she started participating in the Disciple Ohio training, which included going door to door. 
Another result from the 2018 event was the beginning of community Bible studies. Although many in the initial group are no longer present, one couple, who is now starting to attending on Sabbath mornings, brought their friend. The friend, a grandmother, comes regularly, and shared her excitement about learning biblical truth, noting, "The closer I get to the truth, the more I'm attacked by Satan." This fact has only strengthened her resolve and desire to learn more. Already she brings her daughter and grandchildren, and with a new series of Bible studies beginning, she looks forward to bringing others.
As a result of the happenings at the Findlay church, it is exciting to see what becoming an active disciple for Christ has meant to the members. Their enthusiasm and spiritually vitality is up, and a very strong feeling of the Holy Spirit is present in the various activities and plans of the church. 
Mazani shares, "Members have caught the fire and want to see these things happening."