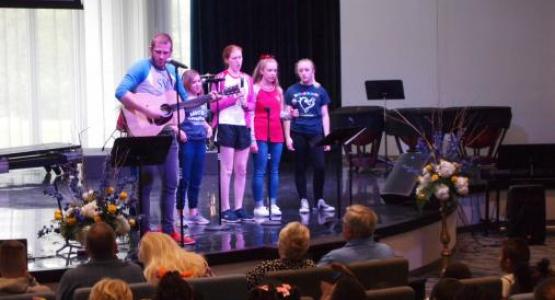 Dynamic Duo Honored With Classroom Dedication
July 17, 2019 ∙ by rbacchus ∙ in Ohio Conference, Education
Story by Vicki Swetnam
Recently students and faculty from Ohio Conference's Spring Valley Academy (SVA)  gathered for a K–12 assembly to dedicate the kindergarten classroom in memory of Zelda Dunn, who taught at SVA from 1994–2011, and kindergarten aide Stephanee Oberer (affectionately known as "Mrs. O.") Together they established the foundation of the school's early childhood kindergarten program, in accordance with counsel from the Spirit of Prophecy.
At the assembly, SVA also celebrated Oberer's retirement, recognizing her 35 years of faithful, dedicated service. Chaplain Justin Janetzko wrote a song about her, and, as he sang and played the guitar, high school Campus Ministries song leaders led everyone in singing this tribute of love to her.
Oberer was surprised when she discovered that the kindergarten room was being dedicated to both Dunn and her, as Principal Darren Wilkins unveiled the plaque. She graciously shared humble words of thanks and recalled fond memories. "Over the years, I have known many children that have come and gone at SVA. ... I simply just love children, and now you are all my children!" exclaimed Oberer. She and her husband, Chuck, who serves as SVA's bus driver, have three children of their own and are blessed with seven grandchildren.
An especially meaningful highlight was when Wilkins asked Oberer to close the assembly with the same prayer she and Dunn recited with the students at the close of every classroom day:
"Up in Heaven, God is listening to each word I say,
For He loves me, and He listens to me as I pray.
May the Lord watch between me and thee
As we are absent one from another. Amen."
Wilkins says, "Following the chapel, many students lined up to give and receive a loving bear hug from Mrs. O, who will forever be loved in SVA's hearts."