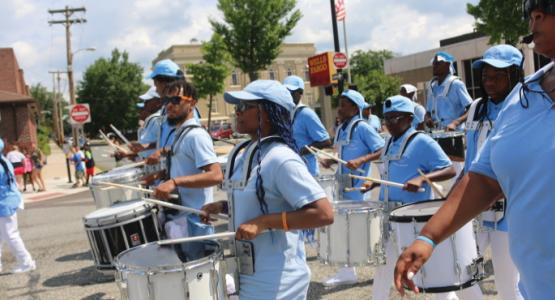 Drum Corps Marches in Local Parade
September 04, 2019 ∙ by Web Administrator ∙ in Allegheny East Conference
Story by LaTasha Hewitt
This summer AEC's Drum Corps (AECDC) participated in the Pottstown, Pa., July 4th parade for the third time. They are the first Seventh-day Adventist group to ever march in the Pottstown parade, a tradition they hope to keep.
"This parade is special to us because the community is so kind to us and they embrace us with open arms. We take pride in participating alongside organizations such as the National Association for the Advancement of Colored People. They look for us each year, and we look forward to participating," says Andrea Elliott, AEC Drum Corps coordinator.
The AECDC has also participated in several other events within the AEC territory: the East Orange Memorial Day parade in N.J.; the citywide street festival, sponsored by the Church of the Oranges (N.J.); and the Puerto Rican Parade in Camden, N.J. These drum corps activities served as precursors to the International Pathfinder Camporee in Oshkosh, Wis.
The goal of AECDC is to spread God's Word by way of "percussion sound." They aspire to instill confidence in young people, bringing together youth from several churches, cities and states. "We love what we do, especially witnessing in the community. If we can touch one soul, we have accomplished much," says Elliott.