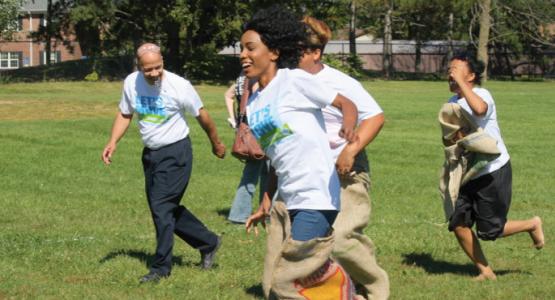 Columbus All Nations Celebrates 10 Years
September 09, 2019 ∙ by Web Administrator ∙ in Allegheny West Conference
Story by Benia Jennings
From its humble beginnings leasing a small space to a church boasting members representing all regions of the African continent, the Columbus All Nations church (CANSDA) stands as a testament to God's ability to multiply their efforts. Dedicated on September 19, 2009, CANSDA will host a monthlong thanksgiving celebration this year to commemorate the 10-year anniversary of the church.
Allegheny West Conference staff recently sat down with Kwesi Gyimah, the church's senior pastor, to learn more about the challenges of leading a church with such diverse cultures, the church's community presence and their future plans.
What is the mission of CANSDA?
The church started out as a way to get members to become more active. There were lots of Adventist members from different African countries living here in Columbus who had been very active back home in their churches. After relocating to America, they became "benchwarmers," more or less. Each person has something to give to the church. Our goal was to create that atmosphere where people would feel comfortable serving in any capacity and not worry about being ridiculed or looked down upon. Many of these people had "walked off" the faith. The church became the place for them to regrow and get reconnected to Christ and their faith among people who would support them.
What are some of the challenges that the church has faced these past 10 years?
The biggest challenge originally was that the church was a recipe for disaster. There were so many different nationalities, and, within those, you also had different tribes with their own way of doing things. One of the biggest challenges I faced was in the preparation of my sermons. I would use illustrations familiar to me. I'm a Ghanaian, raised in Nigeria, so I would use illustrations that the West Africans were familiar with. They would get it, while the South and East Africans would just look at me. So it took me awhile as a pastor. I began to spend time on social media to see how they reported their news. I listened to some of their comedians because comedians bring out and make fun of culture. I would listen to East and South African and radio talk shows just to get a sense of how they live, and I would incorporate that into my sermons and my interactions with the members.
I also had to be mindful of nonverbal communication. As a Ghanaian there are certain gestures that others found offensive. Talking to an elder or person of authority with arms folded in front is seen as disrespectful and arrogant, while placing your hands behind you is respectful. I found out that in other African countries, such as Togo, those gestures have an opposite meaning. I had to begin to look at everyone through the lens of their own culture.
Was your research about being a more effective pastor, or were you able to educate your members as well?
The great thing about it is that as I learned the members were also learning about each other. Another way we got to know each other's cultures was through our weekly potlucks. We've had potlucks since day one. Members would bring food from their home countries, and I believe one of the best places to get to know somebody is around the table.
What are the future goals for CANSDA?
There is a large population of Rwandese Adventists here in Columbus. We would like to plant a Rwandan church. We've already rented a two-bedroom apartment in one of the apartment complexes where many of them live where we have Friday night Bible study for the young people, as well as Saturday afternoon studies. We've also partnered with two Baptist churches for after-school programs on Mondays and Thursdays. It's not just our members attending; we also have Muslims and Hindus coming to these programs. We're hoping to grow leaders out of the Rwandese community and then plant a church.
God has been good to CANSDA. It has been a humbling experience, but we have been blessed with so much by the grace of God. That's what we want to celebrate during this anniversary, thanking God for all that he has done.