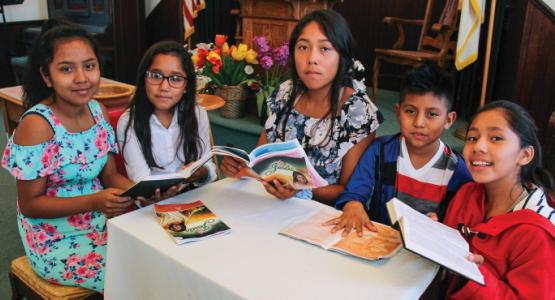 Castro Sisters Tell the World
October 09, 2019 ∙ by Web Administrator ∙ in Mountain View Conference, This Month's Issue
Story by Walter Cardenas
With a smile on their faces and the joy of a new day, the Castro sisters regularly go to their friends and acquaintances houses to give Bible studies. At an early age, Kimberly (13), Mitzy (12) and Destiny Castro (10) developed a love for Christ and His mission. They learned about the great love Jesus has for them, and their deep desire to share Jesus and their conviction of His soon return led them to offer Bible studies to their close friends.
When Destiny was asked about her motivation for giving Bible studies, she said, "Well, Jesus is coming soon, and I want to prepare others so they have a chance to go to heaven too." Destiny wants to be a missionary when she grows up; however, it is clear, that she is already a missionary by the work that she is doing in Moorefield, W.Va.
As members of the Moorefield (W.Va.) Hispanic company, the Castro family is passionate about sharing their love for Jesus. In fact, prior to the three Castro children getting baptized, their parents played an active role in the church by helping people and inviting community members to church. The girls witnessed this, and it became ingrained in their DNA.
As young people, they have had to deal with great adversity. They could have used this as an excuse to leave the church or to not serve God. Yet, the medical, financial and other challenges they have gone through have allowed them to put their trust in the Lord and rely totally on Him for everything.
They have experienced God's love firsthand, and they want others to experience Him as well. Thus, they are not afraid of sharing their faith with their friends. Kimberly gave Bible studies to her friend who is 14, only a year older than she, and Destiny gave Bible studies to a friend her age. As a result, the friends decided to get baptized during a church retreat in July.
Their friends' decisions to follow Jesus have sparked a greater desire to teach others. Each sister studies the Bible with three of their friends each week. Two of the friends who are currently studying with them have decided to follow Jesus and want to be baptized soon. God has been blessing the sisters' desire to make Him known to their friends.
Kimberly recognizes that God has a plan for everyone when she stated: "I think God has a purpose for everyone, and He has a purpose for me, and He is using me as His instrument."