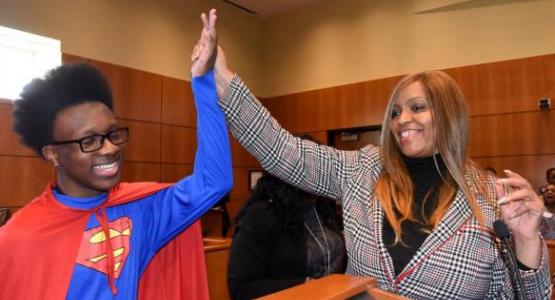 Camden Church Organizes Mock Trial for Local School
June 06, 2019 ∙ by vmbernard ∙ in Allegheny East Conference
Story by LaTasha Hewitt
When the Mt. Olivet church in Camden, N.J., adopted their neighborhood school—H. B. Wilson Elementary—they wanted to make a difference. One recent initiative was a "mock" trial, designed to teach students about the judicial system and bring awareness to the seriousness of crime.
Mt. Olivet members Ingrid French, an administrative supervising judge of worker's compensation for New Jersey, and Lorene Watkins, Mt. Olivet's Relationship Ministries leader, developed the idea. French presented the concept to Principal Nicole Harrigan, and she and her staff embraced the idea. Fifth-grade teachers coached the children, and Mt. Olivet church members assisted with the trial.
"In addition to being good role models for the students, we were helping urban youth appreciate a justice system that is not perceived as being 'user-friendly' for them," says French.
The mock trial was held at Rutgers University (N.J.) after almost 40 hours of practicing and developing the court scenario. The fifth-grade students played the roles of judge, prosecutor, defense attorney and jurors.
The scenario involved Superman being charged with the crime of bursting through the wall of a Costco warehouse. Superman's character demonstrated that when you have a good reputation, people are more likely to give you the benefit of the doubt.
"The mock trial helped the students to display teamwork, fairness and how to be a good sport whether you win or lose," says Watkins.