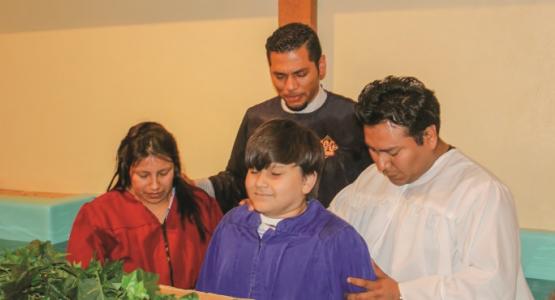 Vandalia Spanish Church Plant Membership Doubles
September 05, 2018 ∙ by Web Administrator ∙ in Ohio Conference
Story by Heidi Shoemaker
A small group, originally based in the Springfield Spanish church, met every week in private homes until they grew to about 14 baptized members. They then decided to plant the Vandalia church last December.
A strong vision of growth and a huge dependence upon prayer stabilized members. They started this project with a prayer program for 30 days, then decided to keep praying for 50 more days. After the 50 days, they decided to pray indefinitely every day at 5 a.m.
The church soon received new visitors every week interested in Bible studies from all around the community. Soon they had nearly 30 individual Bible studies.
Earlier this spring, Peter Simpson, Hispanic Ministries coordinator for the Ohio Conference, launched an evangelistic campaign at Vandalia. This resulted in 16 new souls added to this baby church and to the kingdom of God, doubling their membership in their first evangelistic effort.
"People are definitely thirsty for the gospel in Vandalia," says Abner De Leon, Personal Ministries director of the Vandalia church plant. They have now three small groups working hard in the community in preparation for the next evangelistic series in the following months. Their goal is to become an organized mission church this year. "We just work and pray, but the growth is coming from on high, from the Lord Jesus Christ," says Enmanuel Freites, pastor of the Vandalia, Springfield and Dayton congregations.