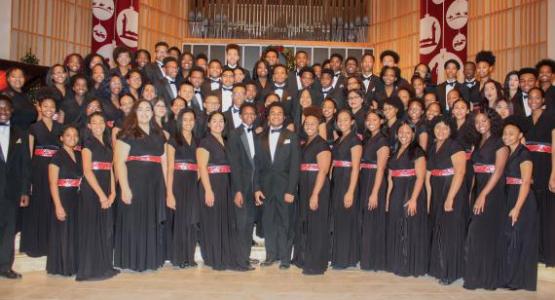 Takoma Academy Choir to Compete on World's Largest Stage
March 22, 2018 ∙ by vmbernard ∙ in Potomac Conference, Education
Story by Ron Mills
Takoma Academy's (TA) chorale and camerata are joining forces to participate in the Music for All National Choir Festival and the World Choir Games (WCG)—the largest choral competition in the world!
Via a recorded audition, a panel of renowned choral conductors selected the TA chorale as one of the charter groups that sang at the premiere of the Music for All National Choir Festival in Indianapolis, March 15-17, 2018.
The Music for All National Choir Festival is a noncompetitive experience for outstanding middle school, high school and youth choirs. The festival is a celebration of musical excellence, combining world class performance and evaluation opportunities, with an exhilarating atmosphere of camaraderie in music.
A Once in a Lifetime Opportunity
WCG is organized by the Interkultur Foundation for amateur choirs from all over the world, regardless of country of origin, race, genre of music or artistic ambitions. Its motto is "Singing Together Brings Nations Together" and aims to inspire people to experience the strength of interaction, challenging personality and community equality.
It attracts upwards of 25,000 individuals from around the world and will take place in Tshwane, South Africa, July 4-15, 2018.
"The World Choir Games will provide ourstudents with a once in a lifetime opportunity
to stretch themselves as they embark upon such a high-profile event showcasing unity, team spirit and a spirit of excellence," says Lulu Mupfumbu, TA's music director. "This is an opportunity for them to not only be ambassadors of our faith, but of Takoma Academy and the State of Maryland."
In order for TA to compete in WCG, they need to raise $250,000 by May 2018. "The TA community and parents of students are participating in fundraising," says Mupfumbu. "Yet, we need greater support from our larger community to achieve this goal."
To learn more and support this opportunity, visit ta.edu/donate and select "World Choir Competition."