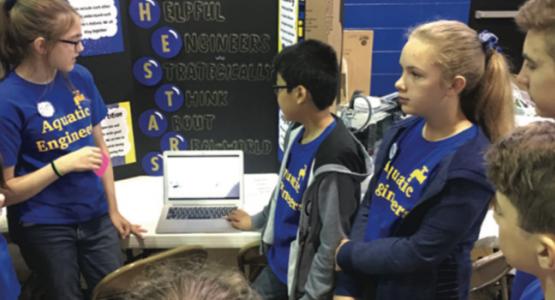 Spring Valley Academy's Aquatic Engineers Win Third Place in Nationals
July 03, 2018 ∙ by vmbernard ∙ in Ohio Conference, Education
Story by Vicki Swetnam
The LEGO® Robotics club at Spring Valley Academy (SVA), named the Aquatic Engineers, recently built and programmed an autonomous robot with the ability to solve simulated challenges.
The 10-member team won third place out of 24 teams at the Adventist LEGO Robotics League Southern Challenge for their robot's innovative design and successful completion of real-world challenges relating to transporting, using and disposing of water. Southern Adventist University (Tenn.) hosted this regional competition, themed "Hydro Dynamics."
The Aquatic Engineers were among the top six teams from the Southern Challenge invited to the national competition at Forest Lake Academy (Fla.).
At the event, the Aquatic Engineers placed 11th in robot performance and third overall. "I like how it feels to work together to achieve a goal—it's like you're a part of something," expresses sixth-grader Hailey Case.
"What an exciting year it has been!" says Sam Joseph, SVA's robotics coach. "I had the distinct privilege of watching this year's team grow tremendously. The Aquatic Engineers are an exemplary and talented group of young people. I can't wait to experience what awaits us as we contemplate next year's theme, 'Into Orbit,' which encourages teams to explore ways to live and travel in space."
The Adventist LEGO Robotics League is part of a global program that helps young people develop technology, science, problem-solving and research skills, as they build and program robots to achieve specific tasks.