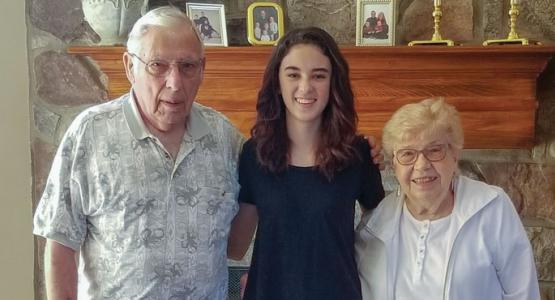 Spring Valley Academy Student's Alertness Prevents Possible Fire Damage
May 16, 2018 ∙ by vmbernard ∙ in Ohio Conference, Education
Story by Vicki Briley
"I smell gas!" said Makenna Lunde, a 10th-grader at Spring Valley Academy, during a visit at her ASSIST mentors Ron and Paula Curtis' home. Ron mentioned that a professional company had cleaned and inspected their gas fireplace six weeks earlier.
Not wanting to take chances, he turned off the gas and called the company. Two weeks later, the experts returned and inspected the fireplace again, finding two leaks at two different joints. With the Curtis' diminished sense of smell, they had no idea how long the gas had been leaking. "Makenna saved our lives," says Paula.
The Curtis' are grateful for Lunde and the ASSIST work program for high school students, sponsored by Southern Adventist University (Tenn.). Students employed through their academy's ASSIST-funded program are assigned to work either in the homes of older adults or in a care facility. Service activities include housecleaning, yard work, reading, playing games and many others.
For three years, the Curtis' have been senior mentors of the ASSIST program. They share that the program has blessed them as much as they have blessed their students. This is Lunde's first year in the program, and she has already made a huge impact in their lives.
"Without Makenna, it's hard to tell what the outcome could have been," Paula continues. "We could have passed away in our sleep or had an explosion when we lit the fireplace. We love Makenna!"