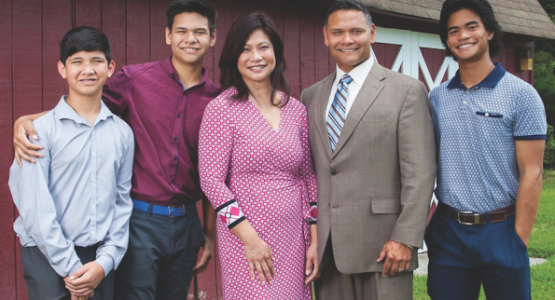 Shenandoah Valley Academy Welcomes Alumnus as Recruiter-Bible Teacher
October 03, 2018 ∙ by rbacchus ∙ in Education
Story by Janel Ware
Alumnus Joe Lowe ('86), the Potomac Conference Shenandoah Valley Academy's (SVA) new recruiter and freshman Bible teacher, recently sat down with Janel Ware, SVA's development and alumni director, to discuss the school's impact on his life, how imperative an Adventist boarding school is for his sons and the desire God has placed on his heart for all teenagers to have this same opportunity:
Ware: You are a graduate of SVA. How has SVA shaped your life and values?
Lowe: SVA was an intense training ground for me that offered a superior formal education, encouraged growth in my relationship with God and provided opportunities to develop lifelong Christian mentors and friends who helped me learn important "soft skills." The faculty were very involved and interested in me, so I felt valued and loved. The biblical principles and values I learned here shaped me as a young man and remain the core values by which I live my life.
Ware: Is there a specific influence or event that changed your life?
Lowe: The Lord used grounds-farm manager Ted Decker (TD) and Coach J. J. Henline to influence me. As TD drove the bus to Harris Pine Mill where I worked, he talked about a wide range of subjects, from growing the grass on the front campus to the birth of a fivelegged calf! I couldn't wait to climb on the bus to listen to TD speak passionately about whatever was on his mind, and those conversations included important life lessons. Henline's desire to coach winning basketball always took a back seat to his desire to teach me what it meant to exhibit Christian sportsmanship. I struggled with an uncontrolled temper, and God put two men in my path to help me understand that passion for loving and serving Him is much more stable and productive than misplaced passion.
Ware: Why is it important for your sons to have the same Adventist boarding school education you experienced?
Lowe: The most impactful years of my life, in terms of growth and development, were my junior and senior years at SVA. In making the decision to accept the call to SVA, my wife Laura ('91) and I recognized this as a family calling. For us, it is imperative that our boys live in the dorm and receive the same education, Christian friendships and solid spiritual influence SVA provided for us. We desire an Adventist education, not only for our sons, but for all teenagers who are interested in being educated to love and serve Jesus. God has placed this calling on our hearts for His children, and
we are committed to it as a family.
Lowe invites potential SVA students and parents to contact him directly at joe.lowe@sva-va.org or (757) 453-5860.