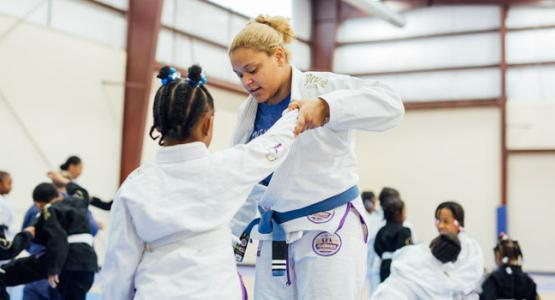 June 11, 2018 ∙ by vmbernard ∙ in Allegheny East Conference
Story by V. Michelle Bernard
Standing on the podium to receive the 2018 International Brazilian Jiu-Jitsu Adult Female Blue Medium-Heavy World title this spring, Kayla Dehm was able to be "present in the moment and enjoy how far God had taken her," she says—a much different place than where she was last year.
During the 2017 competition, Dehm was physically injured and mentally and spiritually defeated. She soon started to experience strong anxiety and didn't know if she'd ever compete again. "But I was determined to fight like Jacob [did] for his blessing," she says. "That's why I always say 'Look at God, only God.' ... He's responsible for my success."
After the 2017 event, Dehm continued training and working with a counselor and a peak-performance professional. Throughout this time, she realized that "[Our] brain is capable of rewiring and redirecting that anxiety," she says. Besides feeling better, she had gotten less sick and injured.
Dehm, a member of the Allegheny East Conference's Recreation church in Baltimore, says one of the reasons she competes is to be an example to young people of an Adventist who is also an athlete. "I feel there are a lot of [Adventist athletes], but there is a stigma around competition."
One of the ways Dehm is an example to others is through her service as a substitute teacher at Baltimore Junior Academy (BJA) and as co-director for her church's jiu-jitsu program, also located at BJA. She says many of the children from the community who are in the program go through a lot of adversity because of struggles in school and family issues. But since joining the program, she's noticed better student behavior, more participation and a willingness to try new things in school.
Now with a newly minted purple belt, Dehm continues to train for the next competition. "As with most Christians, as [with] most Adventists, my spirituality is a journey, and I'm not done with it, and jiu-jitsu is connected to it. The two aren't necessarily separate," she says. "I feel like God put jiu-jitsu in my life to be able to learn these lessons that I would have otherwise missed out on. I hope it can be the same for my students."