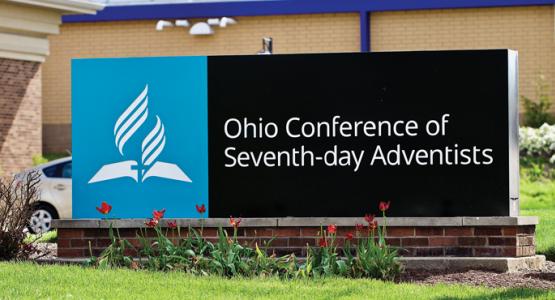 Ohio Conference Transitions Headquarters to Dayton
June 21, 2018 ∙ by vmbernard ∙ in Ohio Conference
Nearly 400 delegates at the recent Ohio Conference constituency voted to make the $3.2 million office building in Dayton the principle headquarters for conference business. In September 2017, local business owners gifted the building to the conference.
The conference spends $80,000 annually to operate the office in Mount Vernon, which increases each year due to the aging of the building. Funds generated by leasing a portion of the new building to Kettering Adventist HealthCare could save the conference up to $1 million in overhead. "These funds could help Ohio churches and schools fulfill their mission, vision, and ministry," says Michael D. Gilkey, newly elected treasurer and CFO.
The new headquarters, recently celebrated with an open house, is 29,350-square-feet, sits on 2.6 acres and has 168 parking spaces. It has been renovated to include cosmetic changes and wired with a state-of-the-art fiberoptic network. "This will enable live video conferences directly from the new office," Gilkey continues.
The large, shared meeting hall, which seats 150 people, will enable the use of technology to video conference with high-profile speakers and record meetings for those unable to attend. High-speed internet has allowed the conference to port over their existing phone number and extensions using advanced VoIP (Voice over Internet Protocol) phones, facilitating better communication with constituents.
Earlier this spring, several conference ministry leaders met with a small school and church to offer communication and media support in order to increase their visibility within their community. This new technology gives them the ability to better serve churches and schools conference-wide.
Later this fall, conference leaders plan to deploy a new ministry initiative called "Disciple Ohio," which seeks to assist pastors and congregations in providing skilled ministers to share their experience in being and making disciples. "All eight regions of the conference will have a full-time mentor or teacher to assist pastors to help members reach their full potential as disciples for Jesus in the[ir] communities," says Ron Halvorsen Jr., president.
Ministry departments and staff have gradually transitioned down to the new workplace. Conference personnel have designed an exit strategy from the Mount Vernon building to the one in Dayton that includes the transition of remaining personnel, digitization and movement of conference records and the official closing of the former office.
The office is located at 1251 E. Dorothy Lane in Dayton. Visit ohioadventist.org, or call (740) 397-4665 for more information.