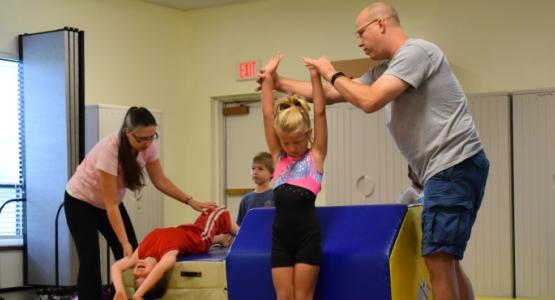 Miamisburg Couple Witnesses Through Tumbling Class
November 28, 2018 ∙ by Web Administrator ∙ in Ohio Conference
Story by E. Dorothy Lane
Visit the Miamisburg church on most Sunday afternoons, and you will find a room full of children, laughter, excitement and tumbling.
Tumblers Loving Christ (TLC) is one of the newest outreach ministries at the church, located on the campus of the Kettering Adventist HealthCare Sycamore Medical Center. "I had been thinking of this for years," says Steve Siegel, founder of TLC, along with his wife, Teri. "I wanted to find a way to use my God-given gift— tumbling—and share it with other people for ministry, without them having to be charged for it." His motivation and ministry philosophy are based on Matthew 10:8: "Freely it has been given you, freely you shall give" (paraphrased).
An alumnus of the Centerville-based Spring Valley Academy (SVA) tumbling team, Steve began teaching tumbling at an area gym which afforded him the opportunity to also teach his own children in lieu of paying for membership. While teaching, he noticed there were children who wanted to take his classes, but did not have the means to do so. Inspired to assist them, he talked with Lori Farr, Miamisburg pastor, who encourages her members to engage in various ministry opportunities. She was supportive of this novel idea.
During the tumbling classes, Farr visits with the children's parents and family members. She has even begun Bible studies with Steve's teenage son. "It's a way to make connections," says Farr. "It could also be a good feeder for Spring Valley Academy; when they get to SVA, they will know the [tumbling] basics."
One parent, James, recently spent much of one Sunday in the church fellowship room observing his three girls in two of the offered classes. "I like this better than other gymnastic classes," says James. "I like the church setting and smaller classes. I've seen my daughter advance in handstands and other moves. I'd recommend this class to all."
Though not a member himself, James is the son of Miamisburg member Glenna Hensley. Hensley often brings her granddaughters to church on Sabbaths and TLC on Sundays. Sometimes the girls bring their friends to both church and tumbling.
Steve teaches three classes: "Tater Tots" (beginners), "Spuds" (intermediate) and one geared toward teenagers. "Steve is professional and encouraging, reviewing what the children learned in prior weeks and building upon those skills. His love for his students, and for Christ, is evident. He and Teri, also a tumbling teacher, rarely miss a Sunday class," says Farr.
TLC continues to grow, bringing in new students and families each week. While Steve and the church have done their best to keep up with the demand, they are in need of more mats and equipment to expand their ministry. If you'd like to learn more about this outreach, or contribute toward this ministry, contact the Miamisburg church at (937) 847-9451.