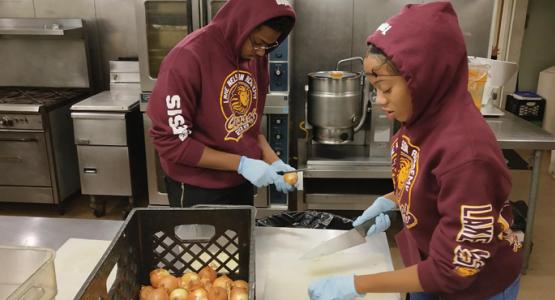 Lake Nelson Adventist Academy Makes Service a Priority
October 31, 2018 ∙ by vmbernard ∙ in New Jersey Conference, Education
Story by Leonora Seferlis
Lake Nelson Adventist Academy's (LNAA) educational program includes a purposeful and dynamic mandate of giving back. This directive is part of the legacy built with the participation and contribution of students, staff, teachers, family, friends and church partners who generously and consistently support LNAA's outreach ministry efforts.
As Christians, we have a divine purpose to serve, to bring a foretaste of God's kingdom to this world and to "share with the Lord's people who are in need" (Rom. 12:13, NIV). Educators at LNAA and elsewhere create a ripple effect in students' lives "to meet people with the message of Jesus" (Ellen White, Education, p. 55); to develop an attitude of service; and to re ect Jesus' love.
Responding to Jesus' call to serve and wanting to help those in need, during the past two years LNAA students participated in several local and international outreach missions—distributing food, school supplies, toys and personal care items. They painted, built and repaired school and church buildings. They offered a listening ear, a shoulder to cry on and a hug to those who needed one.
The international mission trips included Cuba, Dominican Republic and Colombia. Locally, the school had bake sales, fund drives and visited organizations such as Elijah's Promise Community Kitchen (N.J.) and nursing homes. "The reward of helping others bene ts not only those we are helping, but it helps us grow too," says Brendan Sierra ('18).
"When we live our lives by the true definition of love, to give and serve become the reward," says Elisa Maragoto, principal. In fact, during LNAA's 60 years, students and staff have held 13 gospel concerts, numerous food and clothing drives and annual Christmas shoebox projects and St. Jude's Marathons.
"True education means more than the pursuit of a certain course of study. It means more than a prepara- tion for the life that now is. It is the harmonious development of the physical, the mental, and the spiritual powers. It prepares the student for the joy of service in this world and for the higher joy of wider service in the world to come" (White, Education, p. 13).
In the words of Martin Luther King Jr., "Life's most persistent and urgent question is, 'What are you doing for others?'"