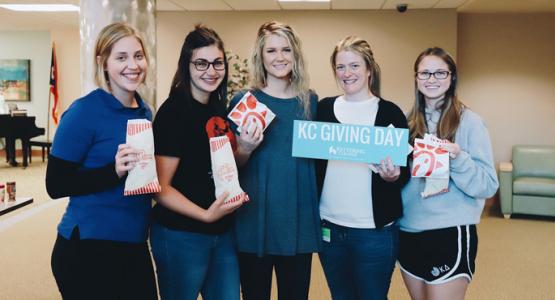 Kettering College Holds Second Annual KC Giving Day
November 05, 2018 ∙ by vmbernard ∙ in Ohio Conference, Education
Story by Lauren Brooks
Kettering College recently celebrated its second annual KC Giving Day with donuts and coffee, Chick-fil-A, popcorn, and sweet treats. More importantly, the College celebrated with a spirit of giving among alumni, students, staff and friends.
KC Giving Day and fundraising throughout the year supports students through the Kettering College Fund, Kettering College Student Assistance Fund, and Kettering College Scholarship Fund, among others. The total of KC Giving Day gifts surpassed $45,000 and continues to grow.
The 2018 KC Giving Day theme was "The Ripple Effect." Just as a pebble dropped into a pond creates ripples, this day of giving has a far-reaching impact on tomorrow's health care professionals. 
"Receiving a scholarship not only encouraged me to finish strong in my senior year, but also strengthened my faith," said Jasmyne Martin, a 2018 nursing graduate. "I'm a firm believer that God allows everything to happen for a reason, and I believe that God opened all the doors for me to attend and graduate from Kettering College. I can't thank my donors enough for selflessly providing the funds for me to finish my education right when I needed it."
To learn more about KC Giving Day or support a Kettering College student, visit kc.edu/givingday.