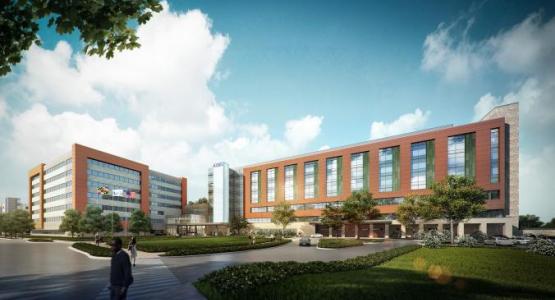 How Adventist HealthCare's New White Oak Medical Center Will Change Patient Care
August 30, 2018 ∙ by rbacchus ∙ in Adventist HealthCare
Story by Sara Gilgore, Washinton Business Journal
As construction moves forward on Adventist HealthCare's new White Oak Medical Center in Silver Spring, Md., one thing is clear: the patient experience will change.
"It's moving from an older campus that's constrained," says Erik Wangsness, president. "What worked well in 1907 doesn't necessarily work well right now. From a standpoint of parking, from a standpoint of outpatient services, we are constrained, which impacts our patients, our physicians. So the larger, expanded campus is going to be a good thing."
And that's for a handful of reasons: space, outpatient services, location, innovation and patient experience. 
For the full story, click here.