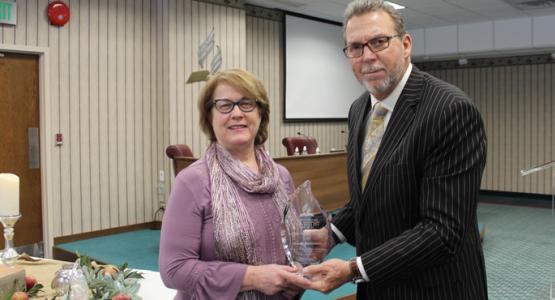 Dave Robinson Recognized as 2018 Notable Person of Honor
November 15, 2018 ∙ by vmbernard ∙ in Ohio Conference
Story by Celeste Ryan Blyden
During the fifth Columbia Union Notable Persons of Honor Awards, union leaders recognized various individuals who have exemplified not only strong leadership, but service to God and their fellow men and women.
"We pay tribute to them today for their steadfast, unwavering commitment to furthering God's kingdom through living a life that exemplifies Christ by caring for and putting the needs of others first," said Rob Vandeman, Columbia Union Executive Secretary.
Pastor Dave Robinson
Following the fall Columbia Union Conference Executive Committee meeting today, Pastor Dave Robinson was honored as a Notable Person of Honor.
Robinson was born in 1963 to C. Murray and Hilary Robinson when they were missionaries in India. When he was four years old, his parents moved their five children to Berrien Springs, Mich. Growing up, he was recognized as a very smart kid who loved to fix things, and later in life started a plumbing business.
Robinson married his wife, Karen, associate treasurer for the Ohio Conference, in 1994, and they are the proud parents of three adult children and four grandchildren who benefited from his sense of humor, good cooking and work ethic. 
In 2010 Robinson began serving as manager for Camp Mohaven where he poured himself into a plethora of projects. He built the new pool and barn bath houses, expanded the equine program, built an 80-foot tower to install a two-way radio communication system and installed underground gas lines for heat, just to name a few. About five years ago, while still serving at Camp Mohaven, Dave felt called to serve at a small church in Delaware, Ohio. Although he stated to the administrators that he was "just a plumber and camp manager," the church later described him as "the glue that pulled their small congregation into a family that can't be separated."
This demonstrates the immense relational impact he had on individuals and the community at large. However, he never took the credit for what he was able to accomplish through his service as a lay pastor. He always said that all his success was simply "God Showing Off."
Officers honored Pastor Robinson for his unrelenting dedication to Christ and his positive impact on so many individuals. Sadly, this husband, father, grandfather, lay pastor and leader lost his battle with colon cancer just last month. His wife, Karen, accepted the award.