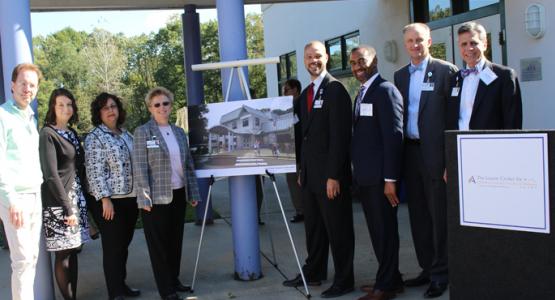 Bainum Family Foundation Invests $500,000 to Help Lourie Center Expand Site and Serve 90 Additional Children and Families
October 25, 2018 ∙ by vmbernard ∙ in Adventist HealthCare
Story by Adventist HealthCare Staff
To best help children reach their full potential, research repeatedly points to both high-quality learning environments and mental wellness support beginning in their first few years of life. These resources are what the Bainum Family Foundation and The Lourie Center for Children's Social & Emotional Wellness prioritize in their respective work and now in a new partnership.
With help from a $500,000 investment from the Foundation, the Lourie Center is expanding its Rockville, Md., site to serve 90 more children and their families. The added capacity will increase critical access to therapeutic and educational services to serve children and families for the next 25 years and beyond.
As a member of Adventist HealthCare, the Lourie Center aims to improve the social and emotional health of young children and their families through prevention, early intervention, education, research and training.
"The Lourie Center's services are in increasingly high demand, and the wait lists are far too long for families with children in need," says Jimmy Venza, executive director of the Lourie Center. "The 16,000-square-foot expansion will add two classrooms, four new therapy playrooms and a state-of-the-art media and learning center — bringing the combined space to 37,000 square feet."
Focused on improving the quality and availability of resources for children living in poverty, the Bainum Family Foundation works to strengthen organizations, systems and communities to sustain solutions for the long term. This partnership is in step with those efforts and aligns with the Foundation's major initiatives in Early Learning, School-Based Mental Health and Seventh-day Adventist Education.
David Daniels, chief operating officer for the Foundation, notes that the partnership reflects the Foundation's recent investments in Adventist hospital system entities focused on providing care and services to the 0-to-3-year-old population.
"We're committed to improving the odds for infants and toddlers, and the Lourie Center is a recognized leader in this space and an exceptional resource for our community," says Daniels. "The Center's unique model delivers a quality of care that all families deserve — and it provides a rich learning opportunity for the Foundation that will help shape our future investments."
The Lourie Center also provides center- and home-based Early Head Start and Head Start services for children ages birth to 5 years of age, and the Bainum Family Foundation supports Early Head Start standards in its Early Learning work. Barbara Bainum, Chair of the Board, CEO and President of the Foundation, sees many similarities in both organizations' comprehensive and research-driven strategies.
"Children need high-quality academics, but to thrive and develop to their full capacity, they need more," says Bainum. "That's why our efforts embrace the whole child beginning at birth and support families, schools and communities to create a continuum of care. The Lourie Center's robust and multifaced model shows the effectiveness of this approach and the positive outcomes it can produce. We are proud to partner with them."
The Bainum Family Foundation combines proven expertise with a passion for supporting the whole child by providing integrated services to help them thrive. Our circle of collaboration includes investments and support in early learning, wrap-around services and knowledge building. Founded in 1968 by Stewart and Jane Bainum, the Foundation has helped underserved children exit poverty through high-quality educational programs and services for 50 years. For more information, visit bainumfdn.org.