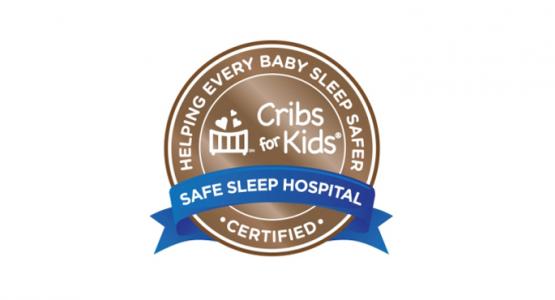 Adventist HealthCare Washington Adventist Hospital First in Maryland to Earn Safe Sleep Certification
January 11, 2018 ∙ by vmbernard ∙ in Adventist HealthCare, Health & Lifestyle
Story by Betty Klinck
Adventist HealthCare Washington Adventist Hospital recently became the first hospital in Maryland to earn the National Safe Sleep Hospital Certification. The hospital was recognized at the Bronze level for its commitment to encouraging safe sleep practice for infants.
Sleep-related deaths result in the loss of more than 3,500 infants per year in the U.S., often due to accidental suffocation. Washington Adventist's Safe Sleep Hospital Certification indicates the hospital's dedication to reducing these preventable infant deaths through education about infant safe sleep habits.
To earn the Bronze Safe Sleep Hospital Certification, Washington Adventist must meet three key criteria recommended by American Academy of Pediatrics' safe sleep guidelines.
Develop a safe sleep policy
Provide training on infant safe sleep to all Mother/Baby Unit staff members
Provide infant safe sleep education to all parents of infants
"This certification lets parents know that our hospital is committed to helping them create a safe sleep environment for their baby, both in the hospital and when they return home," says Michele Schwarzmann, RN, director of Women's Services. "Further, it demonstrates our caregivers' ongoing commitment to patient safety and high-quality care."
The National Safe Sleep Certification Program was created by Cribs for Kids, a Pittsburgh-based organization dedicated to preventing infant, sleep-related deaths.
"I am delighted that the hard work of our Women's Services staff is being recognized with this important award," says Edina Veszelovszky, MD, director of the Special Care Nursery. "Babies and their parents can sleep safer both in the hospital and at home as a result of all the education provided by our nurses and doctors."
Washington Adventist Hospital delivered approximately 2,000 babies in 2017. In addition to the National Certified Bronze Safe Sleep Certification, all of our Labor and Delivery nurses are Electronic Fetal Monitoring (EFM) certified, so that a baby's heart rate and health can be expertly monitored throughout the mother's pregnancy and delivery.