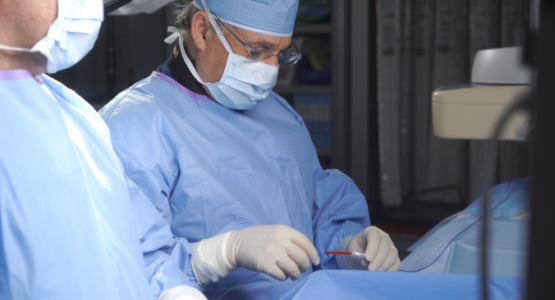 Adventist HealthCare Washington Adventist Hospital First in County Offering Innovative Heart Treatment
October 03, 2018 ∙ by rbacchus ∙ in Adventist HealthCare
Story by Betty Klinck
One in 10 people over the age of 75 have a leaky heart valve called mitral valve regurgitation. Adventist HealthCare Washington Adventist Hospital in Takoma Park, Md., is the first hospital in Montgomery County to offer a minimally invasive heart procedure to fix the problem without surgery.
The hospital performed its first transcatheter mitral valve repair, or MitraClip, procedure in September. The minimally invasive procedure offers a solution for patients with mitral valve regurgitation who cannot have open-heart surgery.
"We are pleased to expand access to the MitraClip procedure to improve the quality of life for patients suffering with mitral valve regurgitation who cannot have surgery," says Fayaz Shawl, MD, director of Interventional Cardiology, who performed the first MitraClip procedure with the Washington Adventist heart care team.
Mitral valve regurgitation is a serious heart condition that occurs when the valve does not close properly, causing it to leak blood back into the heart. If left untreated, it strains the heart and lungs and can eventually cause heart failure. Further, the regurgitation causes symptoms like inability to exercise, fatigue, fainting, shortness of breath or dry cough.
Surgery is typically a safe and effective treatment for many patients. Washington Adventist offers a comprehensive array of options to treat mitral valve disease, including traditional open-heart surgery and minimally invasive surgery. Each patient is unique, and MitraClip offers an effective alternative for patients who are considered high-risk for surgery because of advanced age or chronic illness.
The MitraClip procedure is performed by sliding a tiny tube, called a catheter, with a clip the size of a dime through a small incision in an artery near the groin and up to the heart. The clip stops the leak, allowing the heart to pump blood to the body normally.
For patients who qualify, MitraClip offers a short recovery time, immediate relief of their symptoms, improved quality of life and a significantly lower chance of heart failure.  The procedure is performed by a team of heart care experts led by the interventional cardiologist and heart surgeon.
"As regional leaders in mitral valve surgery, it is important to us to add the MitraClip procedure for patients that are at a very high risk for surgery. It is a natural step to advance Washington Adventist Hospital's structural heart program," says Niv Ad, M.D., a heart surgeon and medical director of Cardiac Surgery Research at Washington Adventist. "We strive to offer the most innovative treatments to fit each individual patient's needs."