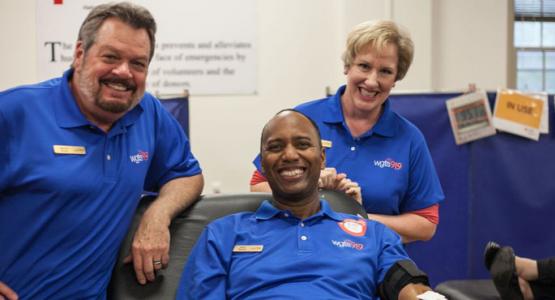 WGTS 91.9 Listeners Help fill Major Blood Shortage
September 28, 2017 ∙ by vmbernard ∙ in Washington Adventist University
Story by Jerry Woods
In the days following Hurricanes Harvey and Irma, the Red Cross in the capital region sent the majority of their blood supply to Texas and Florida. That left a major shortage in the Washington D.C. area. That's when the American Red Cross turned to the WGTS 91.9 family to help meet the need.
On September 15th WGTS, based in Takoma Park, Md., hosted a blood drive all afternoon at the American Red Cross Chapter in Silver Spring, Md. In just six hours WGTS listeners gave enough blood to stock the entire DC area for a month.
"We want to thank WGTS for the outpouring of support.   It's really exciting and amazing what happened.  We couldn't be more grateful," says Regina Booth Bratton of the American Red Cross. 
So many people turned up that some had to be turned away and scheduled for appointments on another day.
"This blood drive was part of our 'Hands and Heart' initiative which strives to give listeners tangible ways to impact their community. Once again the WGTS family stepped up in a major way to literally save lives," says Kevin Kruger, WGTS general manager.