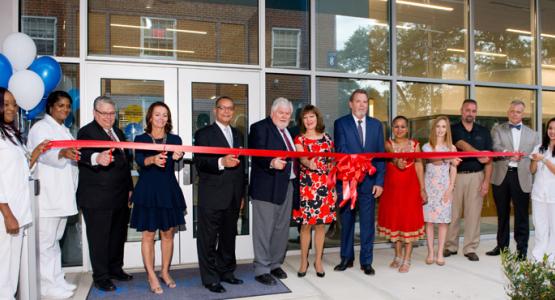 Washington Adventist University Hosts Ribbon-Cutting Ceremony for New Health Professions and Wellness Center
September 23, 2017 ∙ by vmbernard ∙ in Washington Adventist University, Education
Story by WAU Staff
Washington Adventist University (WAU) leaders recently held a ribbon-cutting ceremony for the new Gail S. & Bruce E Boyer Health Professions and Wellness Center (pictured above) on its Takoma Park, Md., campus.
The new center is an addition to the former Health Professions building and named after Gail and Bruce Boyer, major benefactors for the center. It will accommodate the university's health professions and science programs, along with community health programs and activities. It will also allow university staff to partner with the city and county to offer wellness activities.
"God gives us all a mission field, and sometimes they don't seem very big, and sometimes He gives us greater opportunities," says Gail Boyer. "We thought of this as the mission field for Washington Adventist University in Takoma Park."
Following the ribbon cutting and unveiling of the building name, guests took a brief tour of the facilities with a stop at the donor wall, recognizing individuals who contributed financially to the new building. A second ribbon-cutting took place for the Hazel E. Weigley Nursing Lab, named in honor of Columbia Union Conference president, Dave Weigley's mother, who dreamed of becoming a nurse, but it was not to be. However, because of their mother's influence, all four daughters became nurses, and one son became a physician.
"Our campus has served us well since 1904," shared President Spence. "However, current and prospective students depend on us to continue upgrading the infrastructure and quality of services. The new building, in keeping with our Vision 2020, allows the University to grow into a thriving and distinctive institution of higher education."