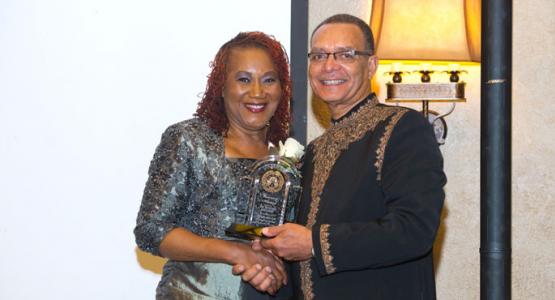 Washington Adventist University Honors Visionaries at Gala
September 21, 2017 ∙ by vmbernard ∙ in Washington Adventist University, Education
Story by Emeraude Victorin
Washington Adventist University (WAU) in Takoma Park, Md., held its fifth annual Visionaries Gala last week at the Congressional Country Club in Bethesda, Md. The event, geared toward raising funds to support scholarships and other university initiatives, honored five individuals for providing excellent leadership, service and inspiration to others.
Georgette (Gigi) Godwin, president and CEO of the Montgomery County Chamber of Commerce, served as emcee for the event. Notable attendees included Prince George's County Executive Rushern Baker, Takoma Park Councilmember Terry Seamens and Member of Maryland House of Delegates Clarence Lam.
This year's Gala honorees were:
Isiah "Ike" Leggett (pictured with Weymouth Spence, WAU president), County Executive for Montgomery County, received the Excellence in Public and Community Service award. As the first African-American elected to the office of County Executive, Leggett was elected to a third four-year term in 2014. He served as the president of the Maryland Association of Counties in 2015 and as the President of the County Executives of American in 2013-14. His community service is extensive and diverse. He was appointed to serve as a member of the Montgomery County Human Relations Commission (now called Human Rights Commission). He served as Chairman of the Commission from 1983-1986. He has also chaired the Commissions Hearing Panel on Employment Discrimination.
Mark and Brenda Moore received the Excellence in Civic and Charitable award. Mark currently sits on the INOVA Board of Trustees, the Kennedy Center's National Symphony Orchestra, Mount Vernon Hospital Quality, The Apollo Theater and the John Leland Center for Theological Studies boards. Mark has more than 30 years of operational and financial experience, and has helped to raise $2 billion in public and private capital during his career. Together with his wife, Brenda, a former nurse, they have established the Mark & Brenda Moore Family Foundation in 2010, the center of their philanthropic activity. Passionate philanthropists, they want to make a difference in the lives of others, including healthcare, education, the arts and Christian evangelism.
Anna H. Wang, who passed to her rest on November 25, 2016, at age 105, led a remarkable life of service, both in nursing and healthcare administration. She was honored posthumously with the Excellence in Benevolent Service to Humanity. During the Sino-Japanese War, amid terrible odds, she single-handedly established the first pharmacy and the first women's hospital in the area. Risking her own life in the fiery ravages of war, she delivered and cared for hundreds of babies and their mothers. Her two great passions were education and music–education as a means to feed the body and music as an avenue to feed the soul. Through the dark valleys of life, it was the great hymns of faith that sustained her, and it was classical music that moved her. Thus to commemorate her life, her family formed the Anna H. Wang Presidential Concert Series on WAU's campus. Funds raised from these concerts will contribute to the building of the new concert hall, thus completing Phase II of the Leroy and Lois Peters Music Building.
Hyveth Williams (pictured above), who has a doctorate in Ministry, a Washington Adventist University alumna, was honored with the Excellence in Scholarship and Transformational Pastoral Service award.  Williams serves as Professor and Director of Homiletics, as well as Interim Seminary Chaplain at the Seventh-day Adventist Theological Seminary at Andrews University (Mich.). She is also an author and was the first female senior pastor in the Seventh-day Adventist denomination. Her influence is felt around the world through her books and television series, and she appreciates every opportunity to share the gospel through her role as a teacher, preacher and counselor.