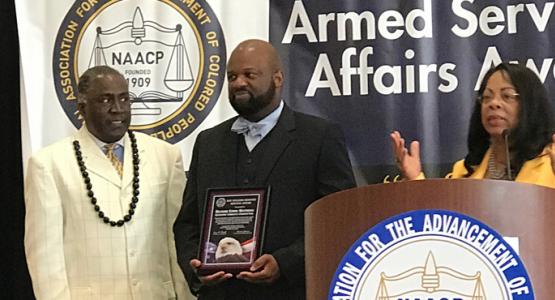 Washington Adventist University Graduate Richard Matthews Received the NAACP 2017 Roy Wilkins Renown Service Award
August 01, 2017 ∙ by vmbernard ∙ in Washington Adventist University, Education
Story by Donna Bigler
The NAACP recently honored Washington Adventist University (WAU) graduate Richard E. Matthews at the 108th NAACP National Convention at The Baltimore Convention Center. Matthews was awarded the NAACP's 2017 Roy Wilkins Renown Service Award at the 42nd Annual Armed Services & Veteran Affairs Awards Luncheon, where U.S. Representative Al Green, (D-TX) was the keynote speaker.
"This award salutes the men and women in the struggle for equality in the Armed Services," says Dawn C. Chase, director of Diversity & Inclusion for the NAACP. "This honor is bestowed upon those who, through outstanding service and action, demonstrate the NAACP mission within the ranks of the military."
In the award presentation, Richard Matthews was recognized for the service he provided when he rented a truck and drove 1,000 miles to deliver pallets of clean drinking water to the residents of Flint, Michigan.
"We can't all lead, but we can all serve," said Matthews, who said that the mission trip to Flint was an effort to live out the tenants of service to others, which he learned at WAU. "We have a duty to serve."
Matthews is a 2016 graduate of the WAU School of Graduate and Professional Studies, where he earned his Master of Arts degree in Religion while working full time at the Pentagon as Deputy Director, Geographic Command Intelligence Support for the Director for Defense Intelligence (Warfighter Support). In this position, Matthews develops and oversees implementation of policy, programs, plans, and guidance for Defense Intelligence warfighting support, and he evaluates and oversees Defense Intelligence Agency, National Security Agency (NSA), National Geospatial-Intelligence Agency (NGA), and National Reconnaissance Office activities to ensure effective support to DoD and U.S. Government interagency operations. In addition, he works to ensure that mission performance is aligned with Defense priorities and consistent with national priorities.
 "We are very pleased that the NAACP is recognizing Richard Matthews for his efforts," says Nicole Currier, dean of the WAU School of Graduate and Professional Studies located in Takoma Park, Md. "He is an outstanding individual who was also recognized this year as Alumnus of the Year at Washington Adventist University."
Matthews retired from the U.S. Army in 2004 at the rank of Lieutenant Colonel. During his military career, he held various command and staff leadership positions including assignments in the 1st Infantry Division – the Big Red One – and 9th Infantry Division – Old Reliables.  He has an extensive planning and operational background, including joint operations experience during overseas tours in Korea, Germany, and Bosnia.  He is a graduate of the Military Intelligence Basic and Advanced Officers Course, Post Graduate Intelligence Program, Command and General Staff College, School of Advanced Military Studies with a master's in military arts and sciences, Massachusetts Institute of Technology Seminar XXI.
Born in Sanford, Florida, Richard Matthews was a distinguished military graduate from Central Washington University in 1984 with a bachelor's degree in journalism and political science. Matthews describes Washington Adventist University as "an oasis away from the noise and distractions of the city, and there is a compassionate fellowship of people who support each other."
Washington Adventist University is Montgomery County, Maryland's only private four-year university. Although it is part of the Seventh-day Adventist system of higher education, the University educates students of all faiths on its Takoma Park campus -- offering a wide range of liberal arts degree programs and an Honors College to challenge students academically. In the Adventist tradition of service to others, the University provides all of the support and encouragement students need to become academically, physically and spiritually strong.
The University's School of Graduate and Professional Studies offers adult evening programs which currently include eight undergraduate and nine graduate degree programs. On campus classes start at 6 p.m. to accommodate working adults, and the accelerated format of eight-week terms allow students to earn their degree faster. The Master of Business Administration (MBA) and Master of Public Administration (MPA) programs are also offered fully online – or in a combination of on-campus classes and online classes for students who need more flexibility.