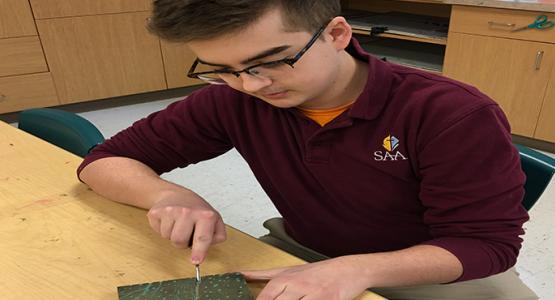 Spencerville Adventist Academy Art Project Benefits Orphans
March 23, 2017 ∙ by rbacchus ∙ in Chesapeake Conference, Education, This Month's Issue
Story by Heidi Wetmore
The idea started out as a fun linoleum block printing project. Middle school and high school art teacher, Nancy Rivera, challenged her students to design a Christmas card, then carve the design into a linoleum block, ink it with a roller and finally hand stamp the design onto fine paper. The students personally signed the back of each hand-made Christmas card and intended to give them to special people in their lives.
However, Rivera began thinking about how this project could help raise money to benefit others. Spencerville Adventist Academy is committed to service, and its strategic plan encourages classes and school organizations to do service projects. Rivera discussed this idea with her students, and instead of making cards for their loved ones, they decided to sell the cards and donate the money to Restore a Child, a Christian charitable organization dedicated to helping orphans and underprivileged children throughout the world. In a day-and-a-half, they raised $80. Senior Berkeley Poulsen says, "It's such a rewarding experience knowing my art is making a difference in the world. While I worked on my cards so that they could be sold to benefit the charity, I realized that I could contribute my skills to the lives of others."
As the school year progresses, students will be creating categories such as birthdays, Mother's and Father's Day, sympathy and "just because" to add to their collection. The cards will be available for purchase, with monies donated to Restore a Child. "We feel so blessed and humbled as we use our God-given artistic abilities to lift up orphan children," says Rivera. For more information on how you can get involved, contact Nancy Rivera at nrivera@spencerville.org.