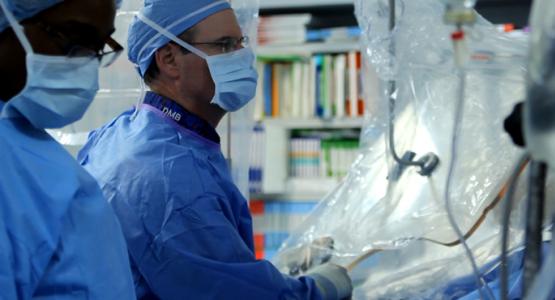 Shady Grove Medical Center, Washington Adventist Hospital Earn Awards for High-Quality Heart Care
July 12, 2017 ∙ by vmbernard ∙ in Adventist HealthCare, Health & Lifestyle
Story by Adventist HealthCare Staff
Adventist HealthCare's two acute-care hospitals have received national awards for their high-quality care of heart attack patients.
The American College of Cardiology's NCDR ACTION Registry honored Adventist HealthCare Shady Grove Medical Center in Rockville, Md., with the 2017 Platinum Performance Achievement Award and Adventist HealthCare Washington Adventist Hospital in Takoma Park, Md., with the 2017 Silver Award. The awards recognize the hospitals' commitment and success in implementing a higher standard of care for heart attack patients. Shady Grove is one of only 193 hospitals in the country to achieve Platinum. Washington Adventist is one of 105 hospitals to receive Silver.
More than 700,000 Americans suffer heart attacks annually. The Registry empowers healthcare providers to consistently treat heart attack patients according to the most current, science-based guidelines and establishes a national standard for treating high-risk patients. The treatment guidelines include administering aspirin upon both arrival and discharge, timely restoration of blood flow to the blocked artery, smoking cessation counseling and cardiac rehabilitation.
To achieve the Platinum award, Shady Grove consistently followed the treatment guidelines in the Registry for eight consecutive quarters and met a performance standard of 90 percent for specific performance measures. Shady Grove has earned the Platinum award for three consecutive years. To receive Silver, Washington Adventist followed the guidelines for four consecutive quarters and met a performance standard of 90 percent for the measures.
"We are pleased that Shady Grove Medical Center and Washington Adventist Hospital have received these prestigious awards," said Michael Chen, MD, an interventional cardiologist at both hospitals and medical director of the Catheterization Lab at Washington Adventist. "It demonstrates Adventist HealthCare's continued commitment to improving the quality and safety of care provided to heart attack patients."
Both hospitals are also accredited as Chest Pain Centers with PCI by the Society of Cardiovascular Patient Care, an Institute of the American College of Cardiology, for the efficient and rapid treatment of heart attacks.