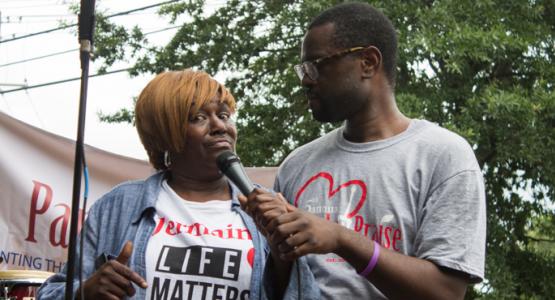 Park N' Praise Hosts Fifth Annual Event
September 13, 2017 ∙ by vmbernard ∙ in Allegheny East Conference, Chesapeake Conference, Potomac Conference
Story by Oksana Wetmore / Photos by Urbanized Geek
This summer marks the fifth anniversary of Park N' Praise (PNP), an event run by Seventh-day Adventists from across the Washington, D.C. area, that aims to raise awareness of the need for affordable housing.
Volunteers worshiped with community members, many of whom are homeless, distributed 500 meals, 15,000 diapers and personal care items, conducted 20 health screenings and prayed with 30 attendees at this year's Washington, D.C., event at Shepard's Park.
Roland Blackman, event organizer and a member of the Seabrook church in Lanham, Md., says event leaders are working to shift the event from a once-a-year event to a year of continual service. To help accomplish this, PNP leaders reach out to attendees and attend community events on affordable housing and food security throughout the year. "We are here to let the community know that there is a God and community who cares," Blackman says.
Volunteers from the Potomac Conference's Seabrook church, Takoma Park (Md.) church, Community Praise Church in Alexandria, Va., and Restoration Praise Center in Bowie, Md.; Allegheny East Conference's Metropolitan church in Hyattsville, Md., Miracle City in Baltimore and Emmanuel Brinklow church in Ashton, Md.; and Chesapeake Conference's New Hope church in Fulton, Md., participated and donated supplies.