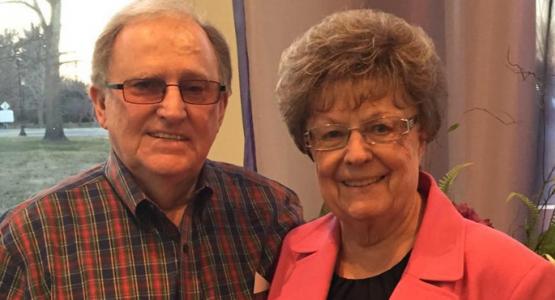 Modern Heart Procedure Gives "New Lease on Life"
April 10, 2017 ∙ by vmbernard ∙ in Adventist HealthCare, Chesapeake Conference
Several months ago, Don Russell's doctor asked him to listen to his heartbeat and then his own.
"His heart was just the perfect 'thump thump' sound," said Don, an 85-year old resident of Laurel, Md., and a member of Chesapeake Conference's Spencerville church in Silver Spring, Md. "When I listened to mine, it was sort of this squishy sound like blood trying to force its way through the valve."
Time to Act
That "squishy sound" was aortic stenosis – a narrowing of the aortic valve between the heart and the aortic blood vessel, which delivers blood to the body.
After monitoring Don's condition, Keith Lindgren, a cardiologist with Adventist HealthCare Adventist Medical Group, told Don he had to take action.
Traditionally, action would mean open-heart surgery with a long, six-week recovery. Although he was nervous, Don agreed that he couldn't wait.
"I was having difficulty walking very far. My whole life was impacted by this problem," says Don, who enjoys traveling with his wife to visit their eight children.
A New Option
Then Don saw the Adventist HealthCare video about an innovative heart procedure called "TAVR" that could fix his faulty heart valve without open-heart surgery. In consultation with his doctor, Don decided that was the way to go.
"Transaortic valve replacement, or TAVR, allows the physician to place a new aortic valve into the damaged valve using a tiny tube, called a catheter. It is inserted through a small opening in the groin," explained David Brill, MD, an interventional cardiologist at Adventist HealthCare Washington Adventist Hospital.
On Aug. 24, Dr. Brill performed Don's TAVR procedure in collaboration with heart surgeon, Anthony Rongione, MD. After spending just two days at Washington Adventist Hospital, Don was amazed to hear his own heart beating regularly, and that the hospital's cardiac experts fixed his heart without ever opening his chest.
"I had no pain at all and had a very short recovery period. In fact, the next day, I went grocery shopping with my wife. It really is too good to be true," said Don.
Since then, Russell has traveled to Colorado, North Carolina and even Canada with his wife, and is able to take long walks with ease. "It has just given me a new lease on life," he said.
To learn more about the quality heart care at Adventist HealthCare, visit TrustedHeartCare.com.