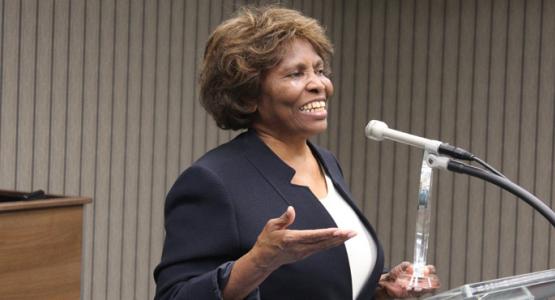 Longtime Columbia Union Adventist Community Services Coordinator, Minnie McNeil, Retires
November 01, 2017 ∙ by vmbernard ∙ in Columbia Union News, Allegheny East Conference
Story by V. Michelle Bernard
Minnie McNeil, longtime Allegheny East Conference (AEC) and Columbia Union Conference Adventist Community Services (ACS)/Disaster Response director, recently retired.
"I have had the privilege to work with Sister McNeil for more than 15 years and have been constantly amazed at her energy, enthusiasm, community skills and knowledge, and 'CAN DO' spirit," says Frank Bondurant, vice president of Ministries Development at the Columbia Union.  
McNeil has served on the ACS Board of Directors for the North American Division, as an appointed member of the American Cancer Society Board, on the Chester County, Pennsylvania, Health Department Board of Directors, with more than four years as chair. She co-founded and with her husband, Andrew, operates W.C. Atkinson Memorial Community Service Center, a nonprofit organization dedicated to developing housing and supportive services, that includes a 22-bed shelter for homeless men; 18 apartments for low- to moderate-income individuals and families; two transitional houses; and three townhouses providing supportive permanent housing for men. 
McNeil and Andrew will continue to operate their nonprofit, and plans to spend more time with their children and grandchildren.