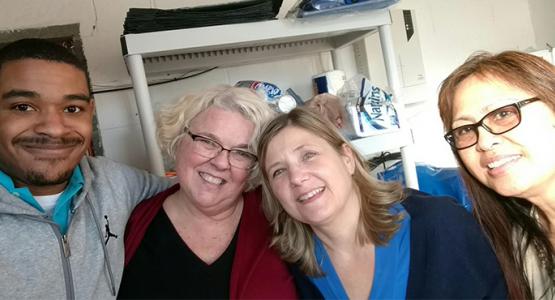 Living Word's EMBRACE Ministry Aids Homeless
June 01, 2017 ∙ by rbacchus ∙ in Columbia Union News, Chesapeake Conference
Story by Samantha Young
Susan Newman, a member of the Living Word church in Glen Burnie, Md., sought a new way for her congregation to help the homeless population in the community, and, as a result, founded EMBRACE Street Smart Ministry. She spent a year volunteering with a group that takes hot soup to homeless populated areas in Washington, D.C., and Baltimore. Then, during the summer of 2016, she took her newfound knowledge and experience and applied it in Brooklyn, an area south of Baltimore, and Glen Burnie.
Fellow church members Denzel Warren (a Baltimore City police officer), Kimberly Pierson, Mariana White, Melanie Herrera (a social worker) and Odwayne Dillon have joined as key leaders in this ministry effort. There are some 100 homeless persons living in tents in a wooded area of Brooklyn. The group assesses the needs of the homeless individuals and provides items donated by the Living Word congregation such as new underwear, deodorant and ramen noodle cups. 
Newman and Herrera recently helped Danielle, a homeless woman who was living in the woods by a Wal-Mart, find permanent housing. It seemed like Danielle had a lot of things in place but just couldn't seem to make them all come together. Newman enlisted the help of Herrera, who used her network as a social worker to find Danielle a place to live.
On a recent Sabbath, 12 volunteers met to organize teams and coordinate outings and drivers for the ongoing ministry projects. A young Brooklyn man who had been taking Bible studies with a Living Word church member offered the use of his truck to transport supplies in the future. The ministry has engaged new church members—one who was baptized as a result of evangelistic meetings held last fall—and has given longtime members an exciting new purpose.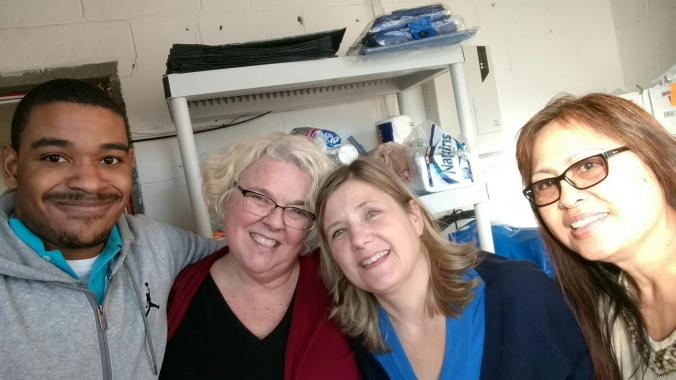 "I feel like this ministry is so much bigger than helping the homeless," says Newman. "[The ministry] is a witness to other people, and we can see the ripple [effect]."
Odwyane Dillon, Susan Newman, Kimberly Pierson and Mariana White organize donated items for the EMBRACE Street Smart Ministry.