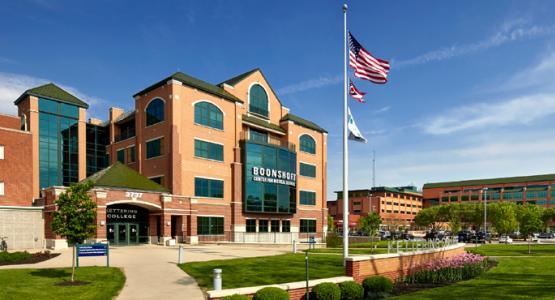 Kettering College Prepares for 49th Commencement Ceremony
April 26, 2017 ∙ by vmbernard ∙ in Kettering College, Education
Story by Jessica Beans
On Saturday, April 29, Kettering College will confer degrees and certificates on 200 students at the school's 49th annual commencement ceremonies. The event will be held at the Dayton Convention Center. Dr. Jonathan Velasco, an alum of Kettering College and surgeon at Kettering Physician Network Surgery—Dayton Surgeons, will be the keynote speaker. This year will also commemorate Kettering College's 50th anniversary.
College president Nate Brandstater will grant 16 Associate of Science (A.S.) degrees in the following areas: radiologic technology (15) and respiratory care (1). Two certificates of completion in computed tomography and four in magnetic resonance imaging also will be granted.
A total of 137 Bachelor degrees will be awarded, to include 85 Bachelor of Science in Nursing degrees.  Twenty-five Bachelor of Science in Health Sciences degrees will be granted with the following majors: Health Care Management (13), Respiratory Care (3), Advanced Imaging (6), Medical Sonography (1), and Health Care Education (6). Four of these students have double majors. Twenty-seven Bachelor of Science degrees will be presented with eighteen majoring in Diagnostic Medical Sonography and nine majoring in Human Biology.
The event will be held at the Dayton Convention Center, 22 East 5th street, starting at 8 p.m., and is open to the public. Please be there by or before 7:50 p.m. as the doors will close promptly at 8 p.m. while the graduates march in and take their seats.