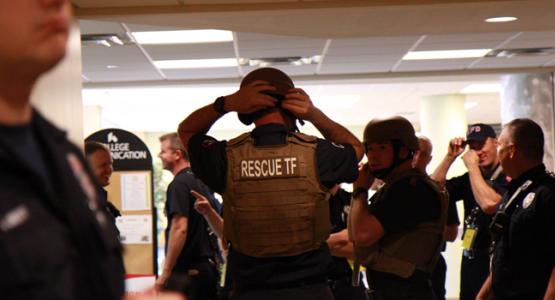 Kettering College Collaborates with Kettering Medical Center, Local EMS and Law Enforcement for Mass Casualty Emergency Exercise
May 25, 2017 ∙ by vmbernard ∙ in Kettering College, Education
Story by Lauren Brooks
On Sunday, May 21, Kettering College and Kettering Medical Center participated in a full-scale mass casualty emergency preparedness exercise.
The exercise used intentional simulations to assess emergency procedures and medical responses to a mass casualty incident involving elements of terrorism and an active shooter incident. This simulation included mock wounds and sound effects to create a more realistic setting, and it was one of the largest exercises of this kind in the Dayton area.
"This was an outstanding collaborative effort, with Kettering College students, faculty and staff working alongside hospital personnel, as well as police, fire and rescue professionals," said Nate Brandstater, president of Kettering College. "We, at the college, gained valuable insights into our systems and capabilities, which we will use to ensure the safety of our community and our readiness to respond in a crisis."
Each year, hospitals are required to go through this type of training. This comprehensive training was unique because of the inclusion of agencies like Kettering Police, Fire and Dispatch, other area EMS and law enforcement as well as the Greater Dayton Area Hospital Association, the Southwest Ohio Regional Trauma System, and the Dayton Metropolitan Medical Response System.
"More than 40 participating Kettering College students gained valuable insight into how healthcare professionals work with other professionals to respond to a mass casualty event," said Brandstater.
Kettering College, the educational institution of Kettering Adventist HealthCare, wants to be prepared for these events in how it responds and communicates to students, faculty, staff, parents and residents of Kettering and the wider Dayton area. This exercise was a proactive step to ensure that students and staff are prepared for any emergency situation.
"As a victim, we were being trained on what to do in such a terrible situation, when resources are scarce and help wouldn't be immediate," said Morena Madden, junior nursing major, who was a wounded student participating in the exercise.  "I learned that we needed to start caring for each other right away."