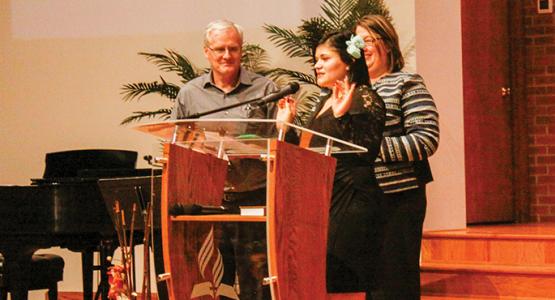 Homeless Teen Gets Second Chance
March 06, 2017 ∙ by rbacchus ∙ in This Month's Issue
Story by Dave Morgan
How does Blue Mountain Academy (BMA) make Jesus real to its students? While on a recent mission trip to Pittsburgh, the BMA seniors befriended a young homeless girl. Pastor John Kent, from the Carnegie Simple (Pa.) church, shared that the girl, Michelle "Shelby" Muyango, had been coming to church intermittently due to a difficult living environment. A bright and insightful young lady, Muyango struggled to be visible to the outside world. During the trip, BMA students took notice of her, and rather than shun her, talked with her, got to know her, ate with her and played volleyball with her.
An idea was born, and soon students encouraged Muyango to consider attending BMA. Muyango hardly imagined that this was possible. Despite her past, she began opening up to God and developing a friendship with Him. She knew she needed heavenly intervention in addition to earthly guidance.
BMA interviewed her and prayerfully decided to give her a chance to, as she puts it, "be part of some- thing positive." Soon after, Karen Schneider, assistant treasurer of the Pennsylvania Conference, learned of Muyango's needs while preparing for an audit at the school. Within an hour, she decided to support Muyango. She provided the teen with many items, and more importantly, a feeling of being "at home," by demonstrating Christ's love to her.
When Schneider is asked why she stepped out like this for a complete stranger, she shares, "I was privileged to have parents who were involved in my interests growing up. Shelby has an amazing 'I can do that' attitude. I've seen her be a friend to someone she hardly knows when they're having a bad day. It doesn't take much for you to claim Shelby as your family. She has many traits that make her easy to love. When you learn the ways she has survived and how God is drawing her to Him, you know she is truly a special child of His."
"People say 'you are so wonderful for what you have done for Shelby,'" she continues, "but the truth is, I feel privileged to pay forward all the ways my parents were involved in my interests while meeting my financial and emotional needs."
In Matthew 25:40, Jesus states, "'I tell you the truth, just as you did it for one of the least of these brothers or sisters of mine, you did it for me'" (NET). It takes a village to raise a child, and in Pennsylvania, a school, church and a conference employee are taking on that challenge!