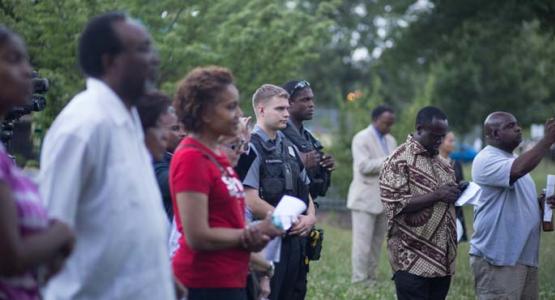 Community Praise Church Members Gather to Comfort Neighbors Following Shooting in Alexandria
June 22, 2017 ∙ by vmbernard ∙ in Potomac Conference
Hours after a gunman shot several people during a practice for a Republican Congressional baseball game, members from Community Praise Church (CPC) in Alexandria, Va., gathered with other community members at a prayer service in Alexandria.
Story by Visitor and CPC Staff
Eighty people representing Potomac Conference's CPC, the Pentagon, the Del Ray United Methodist church and Beverley Hills Community Methodist church attended.
Bron Jacobs (shown in the video), CPC's senior pastor, participated by praying and offering words of encouragement.
As participants left, they wrote their thoughts on a 20-foot long prayer bulletin and lined the streets for a quarter mile with electronic candles.
When it was over, there was a sense of confirmation among attendees. One local resident told organizers, "We knew we had to do something but we didn't know what to do." It was the right time to share thoughts and encourage each other.