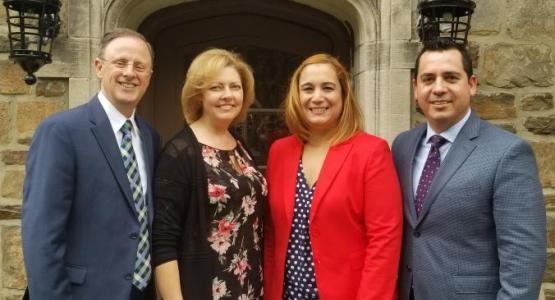 Charnicharts Join Pennsylvania Team
October 26, 2017 ∙ by rbacchus ∙ in Columbia Union News, Pennsylvania Conference
Story by Tamyra Horst
At the Pennsylvania Conference Executive Committee, delegates elected Carlos Charnichart to serve as the new conference treasurer. His wife, Liz, also accepted an administrative assistant position in the conference office. The Charnicharts are looking forward to joining their team later this year.
For the past three years, Carolos served as the accountant for the Hope Channel. He brings experience, not only in accounting, but also as a business owner, manager, sales and marketing executive and adjunct professor at Washington Adventist University in Takoma Park, Md.
As the daughter of a pastor and church administrator, Liz has a heart for Adventist ministry. She most recently worked for the General Conference Secretariat Department and has certifications in Human Resources and Adventist Risk Management. A skilled musician, she will be a wonderful addition to the conference team.
The Charnicharts have two college-aged children. Their daughter, Paola, is a nursing student at Southern University (Tenn.), and their son, Charlie, is a freshman at Montemorelos University (Mexico).
"Our executive committee had an excellent interview with Carlos and Liz and were impressed with their deep commitment to God and His church. They voted unanimously to call Carlos to be our conference treasurer and for Liz to join us as an administrative assistant," reports Gary Gibbs, president. "Carlos has worked with several Adventist institutions and brings a wealth of experience and a passion for mission that will enable Pennsylvania Conference to faithfully share the gospel of Christ. We look forward to the Charnichart's ministry in Pennsylvania!"