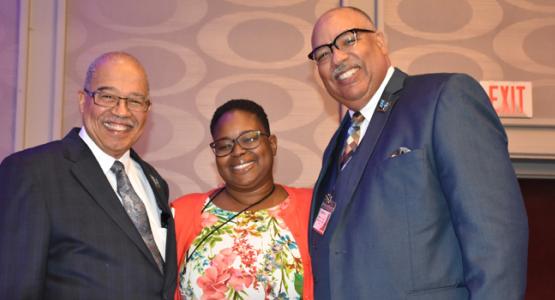 Allegheny West Conference Re-Elects Leadership
May 09, 2017 ∙ by vmbernard ∙ in Allegheny West Conference
Story by Danielle Doss
Allegheny West Conference recently held its 17th Constituency Meeting with 300+ delegates from the following states of Ohio, West Virginia, Western Pennsylvania, and Virginia.
In favor with the majority, William T. Cox (President), Marvin C. Brown (Secretary), and H. Candance Nurse (Treasurer) were re-elected for another term. President Cox mentioned how blessed he was to have formed a bond with his team and thanked every delegate who attended and made this possible. 
"We have a high level of 'Ministry Beyond the Walls' taking place throughout the conference," says Cox. Churches from around Cleveland, Columbus, Cincinnati and Virginia and their ministry initiatives for providing education and housing and sssistance to young women and the homeless.
Jason Ridley, pastor of the Columbus Hilltop church in Columbus, was also voted in as the new youth director of the conference.