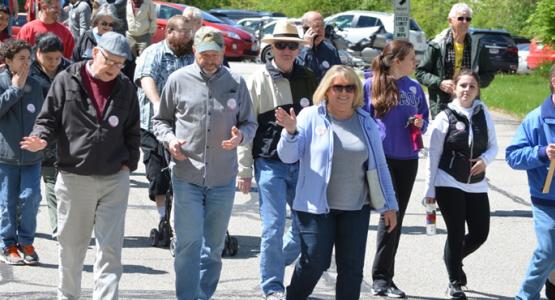 Akron First Church Members Walk to Stop Hunger
September 28, 2017 ∙ by vmbernard ∙ in Ohio Conference
Story by Sue Kirschbaum
Earlier this year, nearly 45 members of the Akron First church participated in the "Walk to Stop Hunger." A total of 229 walkers raised $9,263.51 to benefit the Akron Canton Regional Foodbank, which services eight counties around Akron and Canton. About 20 percent of the amount was raised by Akron church sponsors.
Akron members hold longstanding ties to this event. Prior to 2010, they participated in the "Crop Walk." However only a small percentage of the money stayed in the local community. A member of the Akron Area Interfaith Council (AAIC) felt that there needed to be a change, so she and Lela Brown, Akron First Community Ministries leader, developed the idea for what is now known as the "Walk to Stop Hunger."
Working through AAIC, event organizers were able to encourage members of all faiths to join in the annual walk. Each walker raises money by obtaining sponsors, then choosing a mile or two-and-a-half-mile course. One hundred percent of monies raised go directly to the foodbank. "This year there were Muslims, Hindus, Jews, Catholics and many Protestant churches, including Seventh-day Adventists, all coming together to bene t their community," comments Brown.