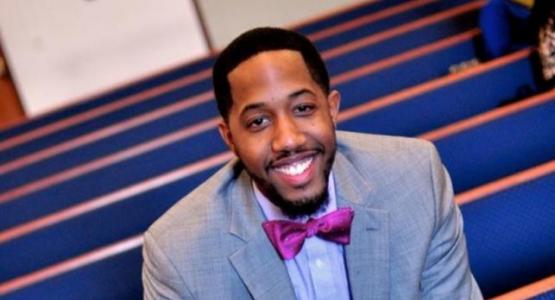 Adventist Pastor Attends Memorial Service for Heather Heyer
August 16, 2017 ∙ by rbacchus ∙ in Columbia Union News, Allegheny West Conference
Story by Celeste Ryan Blyden, Columbia Union Visitor 
Today Nathaniel Drew, pastor of Allegheny West Conference's Bethany church in Charlottesville, Va., and the Calvary church in Gordonsville, Va., attended the memorial service for Heather Heyer, the woman killed last Saturday when a car plowed into a crowd of counterprotesters at a white nationalist rally in Charlottesville. As an active member of the local Clergy Collective, he and other spiritual leaders joined more than 1,000 people who came to support and comfort Heyer's family, friends and the community.
"It was an awesome experience. I stood arm in arm with clergy from all denominations to form a human shield for the family as they came and went," Drew says. "There were threats of violence, interference, disturbance and protest, but by God's grace, nothing materialized. It was a great experience to be part of the beginning stages of the healing process for our city."  
This coming Sabbath, Drew's Charlottesville congregation will participate in the annual Back-to-School Bash at the Sprint Pavilion on the downtown mall, helping to provide local families with backpacks, school supplies, educational and spiritual handouts and other items. The citywide event, which last year drew more than 1,000 people, brings together public servants, city leaders and faith-based organizations in a concerted community service effort.
"We participate every year to show our community we care," explains Drew. "It has raised the profile of our church and helps more people know who we are and that we want to be an active part of making Charlottesville a better place." 
After the Back-to-School Bash on Sabbath from 10:30 a.m. to 1 p.m., participants from Drew's Charlottesville church will join other Adventists at 1:15 p.m. at the Freedom of Speech Wall for the specially called joint prayer rally for peace.
Click here
for further details about the prayer rally.