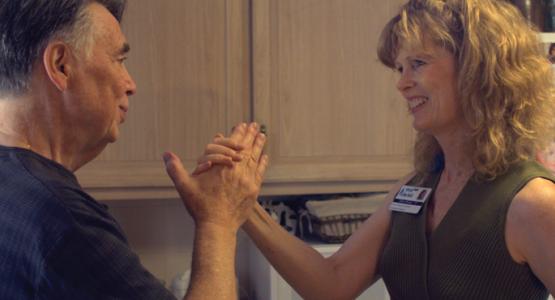 Adventist HealthCare Home Care Division Earns Award for Seventh Straight Year
November 27, 2017 ∙ by vmbernard ∙ in Adventist HealthCare, Health & Lifestyle
Story by Marisa Lavine
Adventist HealthCare's Home Health division has once again been recognized as one of the top performing home health agencies in the nation for quality care.
The Home Health division has been named a Top Agency of 2017 HomeCare Elite®. This is the seventh year in a row that Adventist Home Health, part of Adventist HealthCare's Home Care Services, has received this award, which is presented to the top 25 percent of agencies in the United States.
"Our goal is to help our patients remain in their homes by providing an exceptional experience and top quality care," says Keith Ballenger, president of Adventist HealthCare Home Care Services. "The Home Care Elite Award is once again an indicator that we are achieving this goal with our patients and the community we serve. We are honored to receive this recognition."
HomeCare Elite agencies are determined by an analysis of performance measures in quality outcomes, best practices implementation, patient experience, quality improvement and consistency and financial health. In order to be considered, an agency must be Medicare-certified and have data for at least three outcomes in Home Health Compare. Out of 9,064 agencies considered, Adventist HealthCare Home Health is one of 2,268 agencies recognized on the 2017 winners list.
"The team at Adventist HealthCare Home Health has demonstrated an impressive ability to deliver great patient care," says Christine Lang, senior director for ABILITY Network. "This is due to the skill and dedication of their clinical professionals, as well as the proficiency and efforts of their quality team tracking, measuring and interpreting the data that supports the delivery of care."
Adventist HealthCare Home Care Services has provided in-home care to the community for more than 40 years through a dedicated team of skilled nurses, therapists, home health aides and social workers that provide home health services tailored to each patient's specific needs. Today, Adventist HealthCare Home Care Services, which is part of the Gaithersburg-based Adventist HealthCare system, offers care throughout Suburban Maryland including Montgomery, Prince George's, Charles, Calvert, St. Mary's, Howard and Anne Arundel counties.
The ranking of home care agencies is developed by ABILITY® Network, a leading information technology company helping providers and payers simplify the administrative and clinical complexities of healthcare; and sponsored by DecisionHealth, publisher of Home Health Line and the Complete Home Health ICD-10-CM Diagnosis Coding Manual.
For more about Adventist HealthCare's Home Care services, visit AdventistHomeCare.com