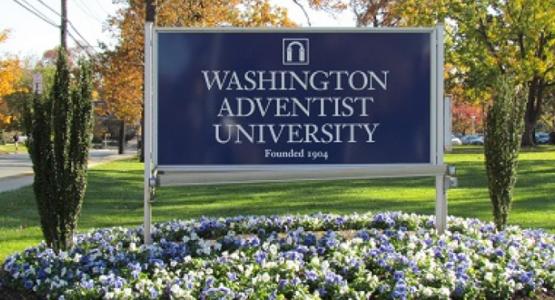 Washington Adventist University to Launch New Honors College in Fall 2017
November 16, 2016 ∙ by vmbernard ∙ in Columbia Union News, Washington Adventist University, Education
Story by WAU Communication Staff
An Honors College will be launched next year at Washington Adventist University (WAU) to further enhance its academic offerings and move the university another step closer to achieving the Vision 2020 – Growing with Excellence plan that seeks to attain excellence at all levels of the institution. This will be the first Honors College in the Seventh-day Adventist system of higher education.
"The Honors College is an important addition to Washington Adventist University, as it will help us provide students with an exceptional and meaningful education," says Weymouth Spence, WAU president  "Our goal is to produce graduates who bring competence and moral leadership to their communities, and the Honors College will boost their success." 
Although Washington Adventist University has long had an active Honors Program on campus that provides learning opportunities outside of the classroom, the new Honors College will significantly expand that effort to serve gifted and talented students who want to be at a Christian school in the nation's capital.
"In the Adventist tradition, Washington Adventist University nurtures the growth of its students in mind, body and spirit by providing a strong academic, healthful and spiritual environment," says Dave Weigley, WAU Board of Trustees Chair, who is also president of the Columbia Union Conference.  "This new Honors College further strengthens the university's academic opportunities so that students can better sharpen their knowledge and skills in preparation for success in today's competitive workforce."
The new Honors College is expected to be in place for the 2017 Fall Semester. Work is commencing to develop interdisciplinary Honors degrees, enhanced scholarships, accelerated curricular pathways, service learning courses, competitive internships, as well as partnerships with other institutions – such as Newbold College near London, England -- for on-location learning opportunities abroad.
"This initiative will help to ensure that WAU provides distinctive holistic faith-informed learning opportunities for students with exceptional academic and character competencies so that they will become the competent moral leaders as desperately needed  to respond to the challenges and opportunities of  our global society," says Cheryl Kisunzu, WAU provost.
Current Honors Program Director Bradford Haas, Chair of the WAU English Department, has been leading the Honors College transformation process.
"We want to situate the Honors College so that it can serve the entire WAU community. The goal is to help other academic departments expand what they can offer to gifted and talented students, and hopefully to draw those students to WAU.  While some people think that Honors espouses an ivory tower mentality, the tenet of the WAU Honors College is active engagement across the university," said Haas.
An Advisory Board has been set up to bring people with diverse experiences together to guide the development of the Honors College. Confirmed members include WAU Board of Trustees member
E. Albert Reece
, M.D., Ph.D., M.B.A., Vice President of Medical Affairs at the University of Maryland, the John Z. and Akiko K.  Bowers Distinguished Professor and Dean of the University of Maryland School of Medicine;
David Trim
, Ph.D., Director of the Office of Archives, Statistics, and Research, General Conference of Seventh-day Adventists;
Ruth Prakasam
, Professor, Department of English, Suffolk University; and WAU Board of Trustees member
Sandra Loughlin
, Ph.D., who is Director of Learning and Innovative Instruction at the Robert H. Smith School of Business, University of Maryland.
"A new Honors College at WAU will enable students to reach the highest level of academic achievement, as well as personal growth and leadership," said Reece. "This is a significant and exciting initiative that underscores our commitment to excellence as outlined in Vision 2020."