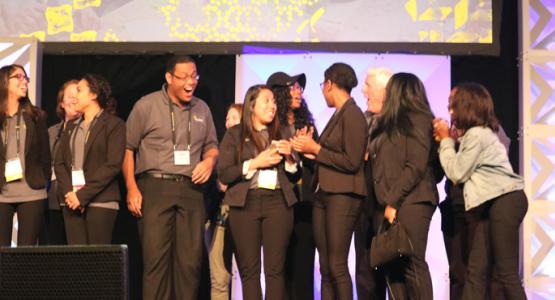 Washington Adventist University Enactus Team Places Second at National Expo
May 19, 2016 ∙ by vmbernard ∙ in Washington Adventist University, Education
Story by Donna Bigler
Earlier this week, the Washington Adventist University (WAU) Enactus team placed second in their league in the opening round at the 2016 Enactus National Expo in St. Louis. The Enactus judges ranked the university, located in Takoma Park, Md., based on the success of projects that resolved local problems by creatively applying business strategies. As a national finalist, the WAU team is now ranked in the top 40 of 443 colleges and universities.
At the national event's opening ceremony, the WAU team received a first-place trophy for its Sam's Club Step Up for Small Business project, and third place for its Walmart Women's Economic Empowerment project. The judges also awarded a finalist plaque to the WAU team for its Unilever project. The school's success at nationals earned them $18,000 to be used for future projects. That comes on top of the $5,100 in grants they earned from the three sponsoring businesses.
"I am very proud of our team this year. As second-place recipients in the opening round, we are now classified in the top 10 percent of Enactus teams in the United States," reports Kimberly Pichot, WAU faculty advisor. "This is the best our team has ever done and we're very excited to continue building relationships in our community where the real impact is experienced."
This year the WAU Enactus students presented a total of 10 projects they initiated to help struggling business owners overcome challenges and find success. The projects also included the Flower Face Lift project, focused on helping immigrant families and businesses; a small business symposium on branding; and a tutoring program for kindergarten to fifth-graders, where children receive homework help while parents do their laundry. During the 2015-16 school year, Enactus projects resulted in 35 students volunteering more than 3,500 hours to help the community. 
"The international Enactus model of investing in students who take entrepreneurial action for others creates a better world for us all is a model that aligns with our 'Gateway to Service' motto," say Weymouth Spence, WAU president. "Congratulations to our Enactus champions, and much appreciation to the faculty support team for teaching our students how to make their educational experience at WAU positively impact our local community."
Read more about WAU's Enactus team in the upcoming October Visitor.