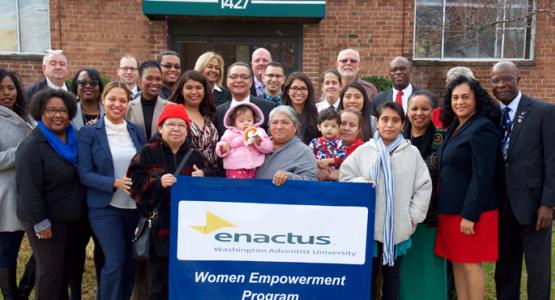 Washington Adventist University Enactus Chapter Launches New Women Empowerment Project in Langley Park
December 07, 2016 ∙ by vmbernard ∙ in Washington Adventist University, Education
Story by WAU Communication staff
The Washington Adventist University (WAU) Chapter of Enactus launched a new project, "First Step, a Women Empowerment Project," on Wednesday, December 7 at a 9 a.m. meeting, held at the Bedford Station Apartments, 1400 University Blvd., E., Hyattsville, Maryland.
The project will seek sustainable work and career opportunities for women and families in the Langley Park area. The goal of the project is to empower women by providing them with the skills and support needed to find a job and enter the workforce.
Those attending incuded: Henry (Hank) Stawinski III, Prince George's County police chief; Angela D. Alsobrooks, state's attorney, Prince George's County; Renee Battle-Brooks, assistant state's attorney  Prince George's County; Peter Franchot, comptroller of Maryland; and Bedford Station Apartment managers Madeline Del Carmen, Cindy Pearre and Robert Lowther.
Members of Washington Adventist University's leadership team and student leaders also attended.
The Washington Adventist University Enactus team is part of an international non-profit organization that brings student, academic and business leaders together to develop projects that improve the quality of life for people in need through the application of business strategies. Nationwide, there are approximately 470 Enactus teams with more than 14,500 students, working on more than 1,000 community team projects.
For more information about the new empowerment project, contact Jude Edwards at (301) 814-0345 or drjudeedwards@gmail.com.