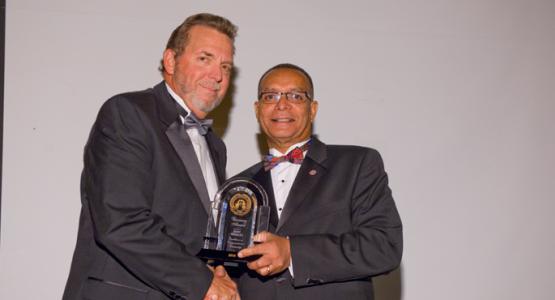 Washington Adventist University's Gala Honors Three Leaders, Including Dave Weigley
September 20, 2016 ∙ by vmbernard ∙ in Columbia Union News, Washington Adventist University, Education
Washington Adventist University recently held their fourth annual Visionaries Gala at Congressional Country Club in Bethesda, Md. This year's honorees include three individuals who provide exemplary leadership and inspiration to others. They are:
Dave Weigley, who has been president of the Columbia Union Conference since 2006 and is chair of the Washington Adventist University Board of Trustees. In addition to his role as president, he has served as a pastor, evangelist, conference communication director, ministerial director, stewardship director and executive secretary. His ministry has also taken him to the Arizona, Carolina, Florida, Iowa, Missouri, and Washington State conferences, as well as to Argentina, India, Peru, Hong Kong and Russia. He attended Washington Adventist University in Takoma Park, Md., received his Bachelor of Arts degree in Theology from Southern Adventist University (Tenn.); his Master of Business Administration in Managerial Leadership from City University (Wash.); and his Doctor of Philosophy from Andrews University (Mich.).
Clara Cobb (pictured with Weymouth Spence, WAU president) is a principal federal public health leader who works to improve nursing and health care, both regionally and nationally. She holds the rank of Rear Admiral with the U.S. Department of Health and Human Services, and provides executive level leadership in policy development, planning, implementation and evaluation of public health programs. She also directs five regionally based programs: Office on Women's Health, Office of Minority Health, Office of Population Affairs (Family Planning), HIV/AIDS Regional Resource Network and the Civilian Volunteer Medical Reserve Corps, designed to protect and promote the health of all communities within the eight southeastern states: Alabama, Florida, Georgia, Kentucky, Tennessee, Mississippi, South Carolina and North Carolina. Cobb attended Oakwood University (Alabama) prior to receiving her Bachelor of Science degree in Nursing from Washington Adventist University. She received her Master of Science in Nursing as a Family Nurse Practitioner from Georgia Regents University, now known as Augusta University (Georgia). 
Liz Murray, whose personal journey from homeless to Harvard serves as encouragement to others that they can overcome their own obstacles. Murray's journey was the subject of a Lifetime Television Emmy-nominated original film, "Homeless to Harvard," and her 2010 book, "Breaking Night: A Memoir of Forgiveness, Survival, and My Journey from Homeless to Harvard," made the New York Times best-seller list the first week of its release. The child of drug-addicted parents who was homeless at 15, Murray (pictured above with Spence) realized that education could change her bleak circumstances. She survived by eating out of dumpsters and finding refuge in all-night subway stations while she worked to complete high school in just two years. She earned a scholarship to Harvard University and graduated in 2009. 
Washington Adventist University's annual Gala serves as a fundraiser for its Vision 2020 – Growing with Excellence plan, which is guiding the school's metamorphosis into one of the premier small universities in the mid-Atlantic region. The plan aims to enhance all facets of WAU operations, which includes exceeding accreditation standards; developing a strong curriculum in science, technology, engineering and mathematics; expanding service learning; conducting ongoing program review; making strategic reinvestments in the quality of programs; and promoting and strengthening support services that reflect 21st century best practices. The fundraiser also supports student scholarships.
At the centerpiece of the Vision 2020 plan is the new Gail S. and Bruce E. Boyer Health Professions and Wellness Center, which will house the University's health professions departments. It will also provide space for collaborative efforts that will benefit the community by providing education, health and wellness programs. The facility is currently under construction and is expected to be completed in the fall of 2017.