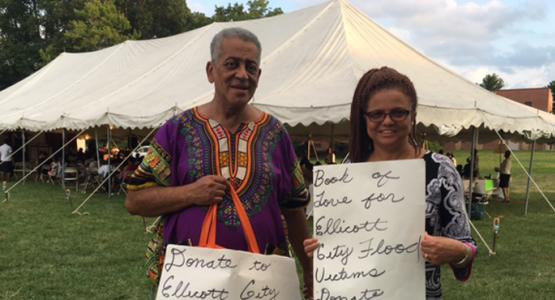 Members Raise Money for Ellicott City Flood Victims, Strive for Revival
August 11, 2016 ∙ by vmbernard ∙ in Allegheny East Conference
Story by V. Michelle Bernard
Rocky Twyman, founder of Pray at the Pump Movement, and Marie Moise (both pictured above), a member of the Allegheny East Conference's Liberty church in Windsor Mill, Md., recently raised $200 for the Ellicott City Partnership to help recent flood victims at the Prayer Explosion Tent Crusade event at the Liberty church. "I want to encourage everybody in Montgomery County where I hail--churches, sororities, fraternities and other groups to please support these precious flood victims who are our Maryland natives. We send money overseas for causes.  We must not forget about our friends who are nearby who are in suffering," says Twyman, a member of the Potomac Conference's Rockville (Md.) church.
The crusade is an ongoing vigil and fundraiser for flood victims and a forum for the community to come together to pray for peace in the streets and schools. "We want to make an impact in Windsor Mills, and bring [the community] present truth and revive their interest in the Bible," adds Pastor Mark McCleary.
The church, located at 3651 Rolling Road and Church Lane in Windsor Mills, Md., is holding the event and collecting donations every night except Tuesday and Thursday 5:45 to 7:30 until August 27.