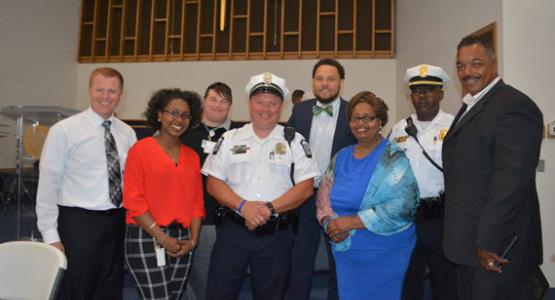 Hilltop Community Worship Center Hosts Safety Forum
June 23, 2016 ∙ by vmbernard ∙ in Allegheny West Conference
Yesterday Allegheny West Conference's Hilltop Community Worship Center and the Westside Community Health Advisory Committee convened a Safety Forum for the public at the church at 2622 Sullivant Avenue, Columbus, Ohio, 43223.
The forum came as a response to the serial rapes and gang tagging that occurred in the neighborhood in late May. "With summer coming, we want to discuss ways the community can stay safe when more people are outside," according to Jason Ridley, Hilltop's pastor and Dru Bagley, chair of WCHAC.
Napoleon Bell, a former police officer and a former director for the City of Columbus Community Relations Commission, moderated the Forum.
Three others panelists included: Officer Brian Newsome, community liaison officer of the Columbus Division of Police; Carly Mesnick, program manager of the Crime and Trauma Assistance Program at the Mount Carmel Hospital System; and Bryttani Barker, anti-human trafficking coordinator of the Salvation Army of Central Ohio. The forum also included a question and answer time with the audience.
Click here to see a story from a local news station about the event.